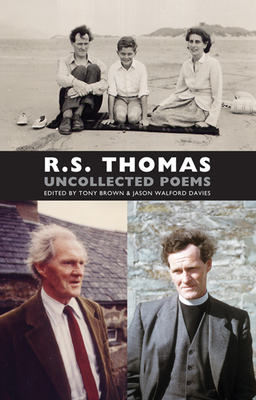 Uncollected Poems
Paperback

* Individual store prices may vary.
Description
R.S. Thomas (1913-2000) is a major writer of our time, one of the finest religious poets in the English language and one of Wales's greatest poets. His output was prolific: over six decades he published some 25 individual collections of poems, as well as several volumes of prose. A substantial number of his poems, however, have hitherto remained uncollected, and often elusive - poems published in newspapers, magazines and journals (many of them obscure), as well as in private or limited editions. Uncollected Poems - published to mark the centenary of Thomas's birth - brings together for the first time a rigorous selection of the best of these. The fruit of several years' research by Tony Brown and Jason Walford Davies, the volume makes available work which spans the whole of Thomas's career - from an early sonnet to his first wife, M.E. Eldridge (included in his first, unpublished, collection Spindrift in the late 1930s) and an early Iago Prytherch poem published in the Dublin Magazine, to poems which are powerful expressions of the metaphysical meditations of his later years. R.S. Thomas's Uncollected Poems takes its place alongside Collected Poems 1945-1990 (Dent, 1993; Phoenix, 2000), Selected Poems (Penguin, 2003) and Collected Later Poems 1988-2000 (Bloodaxe Books, 2004). It gives readers of R.S. Thomas's work access to much new and fascinating material. Uncollected Poems is a companion volume to R.S. Thomas's Collected Later Poems 1988-2000 (Bloodaxe Books, 2004), the sequel to Collected Poems 1945-1990 (Dent, 1993; Phoenix Press, 2000), which only covers his collections up to Experimenting with an Amen (1986). Collected Later Poems 1988-2000 reprints in full the contents of R.S. Thomas's last five collections, The Echoes Return Slow (Macmillan, 1988: unavailable for many years), and Bloodaxe's Counterpoint (1990), Mass for Hard Times (1992), No Truce with the Furies (1995) and the posthumously published Residues (2002). There is no overlap between the two Bloodaxe editions: none of the poems in Residues, uncollected at the time of his death in 2000, is included in Uncollected Poems.
Bloodaxe Books, 9781852248963, 192pp.
Publication Date: March 21, 2013
About the Author
R.S. Thomas (1913-2000) is one of the major poets of our time, as well as one of the finest religious poets in the English language and Wales's greatest poet. He published over 50 books of poetry and prose. Most of his poems from his first 50 years of writing are in Collected Poems 1945-1990 (Phoenix Press), while the poems from his last five collections are included in Collected Later Poems (2004) from Bloodaxe. His Penguin Selected Poems is a curious selection drawing on both his Collecteds. His Uncollected Poems, edited by Tony Brown and Jason Walford Davies (Bloodaxe Books, 2013), selects previously published but uncollected poems included in none of his other published books. Born in Cardiff, the son of a sea captain, he moved with his family in 1918 to Holyhead on Anglesey. He was awarded a bursary in 1932 to study at the University College of North Wales, Bangor, where he read Classics. In 1936, having completed his theological training at St. Michael's College, Llandaff, he was ordained as a priest in the Church in Wales. From 1936 to 1940 he was the curate of Chirk, Denbighshire, where he met his future wife, Mildred (Elsi) Eldridge, an English artist. He subsequently became curate at Tallarn Green, Flintshire. They married in 1940 and remained together until her death in 1991. He married his second wife Betty in 1996. From 1942 to 1954 Thomas was rector at Manafon, in rural Montgomeryshire. It was during his time at Manafon that he first began to study Welsh and that he published his first three volumes of poetry. He learnt the Welsh language at the age of 30, too late in life, he said, to be able to write poetry in it, although he did write and publish memoirs in Welsh. In his later years he worked in predominantly Welsh-speaking communities at Eglwys-fach and Aberdaron. He retired from the Church in 1978, and afterwards lived on Anglesey. He won several awards, including the Queen's Gold Medal for Poetry in 1964. In 1996 he won the Lannan Lifetime Achievement Award for Poetry and the Horst Bienek Prize for Poetry. He was also nominated for the 1996 Nobel Prize in Literature (awarded to Seamus Heaney).