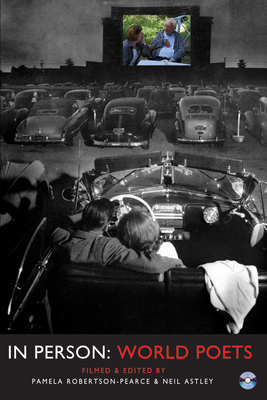 In Person
World Poets
Paperback

* Individual store prices may vary.
Other Editions of This Title:
Paperback (5/22/2008)
Description
In 2008, Bloodaxe published the world's first DVD-anthology, In Person: 30 Poets, a new concept in publishing: readings by 30 poets published by Bloodaxe in its first 30 years captured on film, with all the poems included in the footage printed in the book of the films. Its sequel, In Person: World Poets, is another international collaboration between Bloodaxe Books and award-winning film-maker Pamela Robertson-Pearce. Her style of filming combines directness and simplicity, sensitivity and warmth - the perfect combination for these intimate readings. It is as if the poet were sitting in the room with you, reading just to you, and sometimes saying a few things about the poems. This new compilation on DVD with accompanying anthology covers a wide range of poets from many parts of the world, including America, Australia, Canada, Denmark, Estonia, Finland, Guyana, India, Italy, Jamaica, Korea, Lithuania, Macedonia, Malawi, the Netherlands, Pakistan, Poland and Sweden, as well as from Britain and Ireland. Most of the films present informal, one-to-one readings, with the poets reading to you in person. They enhance your appreciation of the poetry.You hear how the poems sound; you see how the poets read and present their work. Poets writing in other languages read in the original with the English translations read by themselves or by their translators. Some poets are also captured in live performance. T.S. Eliot once described poetry as 'one person talking to another', while W.H. Auden believed it was essential to hear poetry read aloud, for 'no poem, which when mastered, is not better heard than read is good poetry'. In Person: World Poets presents the oral art of poetry in that spirit. There are over 14 hours of readings on four DVDs packaged with the book, and all the poems included in the films are printed in the book, with poems written in other languages alongside the translations, enabling you to follow either language as they are read on the film. Like the original In Person: 30 Poets, this new compilation gives readers a personal festival of poetry in DVD and book form for viewing at home on laptop or TV. It is also a unique educational resource for the teaching and appreciation of poetry. In Person: World Poets includes: Robert Adamson, Moniza Alvi, Antonella Anedda, Simon Armitage, Ana Blandiana, Jean 'Binta' Breeze, Dan Chiasson, Polly Clark, Stewart Conn, Peter Didsbury, Katie Donovan, Tishani Doshi, Ruth Fainlight, Roy Fisher, Carolyn Forch , Tua Forsstr m, Tess Gallagher, Deborah Garrison, Jane Griffiths, Philip Gross, Choman Hardi, Robert Hass, John Hegley, Rita Ann Higgins, Tony Hoagland, Matthew Hollis, Esther Jansma, Jenny Joseph, Jaan Kaplinski, Ko Un, Luljeta Lleshanaku, Thomas Lux, Nikola Madzirov, Jennifer Maiden, Jack Mapanje, Samuel Menashe, Esther Morgan, Julie O'Callaghan, Leanne O'Sullivan, Clare Pollard, Ad lia Prado, Sally Read, Lawrence Sail, Carole Satyamurti, Karen Solie, Piotr Sommer, Ruth Stone, Arundhathi Subramaniam, Matthew Sweeney, Pia Tafdrup, Tomas Transtr mer, Brian Turner, Chase Twichell, Priscila Uppal, Tomas Venclova, Mark Waldron, Susan Wicks and Robert Wrigley. None of these poets was included in In Person: 30 Poets.
Bloodaxe Books, 9781852249854, 528pp.
Publication Date: May 25, 2017
About the Author
Pamela Robertson-Pearce is an artist, filmmaker and translator. Her films include IMAGO: Meret Oppenheim (1996), on the artist who made the fur-lined teacup, and Gifted Beauty (2000), about Surrealist women artists including Leonora Carrington and Remedios Varo. IMAGO: Meret Oppenheim won several awards, including the Swiss Film Board's Prize for Outstanding Quality and the Gold Apple Award at the National Educational Film and Video Festival in America. She has shown her work in solo exhibitions in New York and Provincetown, and in various group shows in the US and Europe. Born in Stockholm, she grew up in Sweden, Spain and England, then lived mostly in America - also working in Switzerland, Norway and Albania - before moving to Northumberland. She co-edited the anthology Soul Food: nourishing poems for starved minds (Bloodaxe Books, 2007) with Neil Astley, and worked with him on the DVD-books In Person: 30 Poets (Bloodaxe Books, 2008) and In Person: World Poets (Bloodaxe Books, 2017), filming poets whose work is included in the two anthologies. Bloodaxe issued two more of her poetry films on DVDs with books in 2009, John Agard Live! with John Agard's Alternative Anthem: Selected Poems and Life is IMMENSE: visiting Samuel Menashe with Samuel Menashe's New & Selected Poems, followed by Jean 'Binta' Breeze's Third World Girl: Selected Poems with a live performances and interview DVD in 2011. Her full-length feature film Benjamin Zephaniah: To Do Wid Me was released on DVD by Bloodaxe in 2013 in Benjamin Zephaniah's DVD-book To Do Wid Me.Neil Astley is editor of Bloodaxe Books, which he founded in 1978. His books include novels, poetry collections and anthologies, most notably the Bloodaxe Staying Alive trilogy: Staying Alive (Bloodaxe, UK 2002/ Miramax, US 2003), Being Alive (2004) and Being Human (2011), along with Essential Poems from the Staying Alive Trilogy (2012). His other anthologies (all these from Bloodaxe) include Earth Shattering: ecopoems (2007), The Hundred Years' War: modern war poems (2014), and three collaborations with with Pamela Robertson-Pearce, Soul Food: nourishing poems for starved minds (2008), and the DVD-books In Person: 30 Poets (2008) and In Person: World Poets (2017). He has published two novels, The End of My Tether (2002), which was shortlisted for the Whitbread First Novel Award, and The Sheep Who Changed the World (2005). In 2012 Candlestick Press published his selection of Ten Poems About Sheep in its renowned pamphlet series. In 2015 he guest-edited a special international issue of the American literary journal Ploughshares, its first all-poetry issue in its 44-year history. He received an Eric Gregory Award for his poetry from the Society of Authors in 1982 and was given a D.Litt from Newcastle University for his work with Bloodaxe Books in 1995. He is a trustee of Ledbury Poetry Festival, and a Visiting Fellow at Newcastle University. He was made an Honorary Fellow of the Royal Society of Literature in 2018.