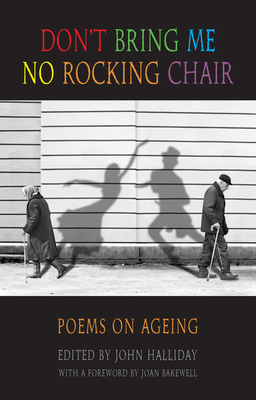 Don't Bring Me No Rocking Chair
Poems on Ageing (Newcastle/Bloodaxe Poetry #14)
Paperback

* Individual store prices may vary.
Description
Gathering poems from Shakespeare to the present, Don't Bring Me No Rocking Chair addresses ageing through the several ages of poetry. Now more than ever, as more of us live for longer, the idea of what it means to age or to grow old engages and concerns people of all ages. One of the problems of ageing is the language we use to define it and the list of pejoratives associated with it, with attitudes to ageing ranging from 'fatalism, denial, negative stereotyping and tunnel vision to fantasy' (Professor Tom Kirkwood, Newcastle University). Poetry can help to give us a fresh language to think about ageing and these poems are chosen to fortify, celebrate, lament, grieve, rage and ridicule. There is not one way to age but neither can any of us truly stop our bodies from ageing. Ageing is not a single phenomenon but complex, multiple, perplexing: experienced historically as well as individually. This anthology may not console but it can widen our perspectives, helping us to change what we can change: our attitudes. This anthology was prepared for the Newcastle Centre for the Literary Arts as part of the Societal Challenge Theme on Ageing at Newcastle University with support from the Institute of Ageing and Health, Newcastle University, and has a foreword by Joan Bakewell.
Bloodaxe Books, 9781852249878, 207pp.
Publication Date: April 28, 2014
About the Author
John Halliday was born in Durham and has always lived in the North East. He has a lifelong interest in poetry and following a Creative Writing PhD has facilitated memoir and life writing groups for older writers. For many years he worked as a psychotherapist and noticed the impact poetry had on those engaging with their distress. He believes poetry can help us face life's vicissitudes of which ageing is one of the most prominent. Over the last four years he has run the Basil Bunting Poetry Competition and through that hopes to encourage young writers to write poetry. His anthology, Don't Bring Me No Rocking Chair: poems on ageing, was published by Bloodaxe Books with Newcastle University in 2013.