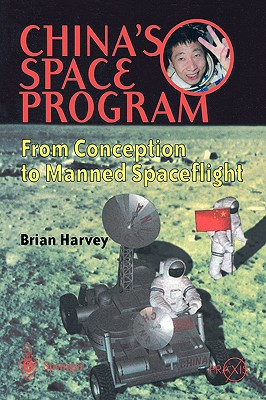 China's Space Program - From Conception to Manned Spaceflight
Paperback

* Individual store prices may vary.
Description
In October 2003 Yang Liwei made history as the first Chinese citizen in space, orbiting the globe 14 times in the Shenzhou 5. The Chinese space program has sometimes been called the last of the secret space programs. Although it is far less secretive now than formerly, fascinating revelations are still being made. Brian Harvey examines the history of the Chinese space program, from it's earliest times to the historic breakthrough of manned flight.
Springer, 9781852335663, 350pp.
Publication Date: August 27, 2004
About the Author
Author of 'Race into space - the Soviet space programme' (1988), 'The new Russian space programme' (1994), 'Russia in space - the failed frontier?' (2001), 'Two roads into space - the Japanese and Indian space programmes' (1998), 'The Chinese space programme - from conception to future capabilities' (1997), 'The Chinese space programme - from conception to manned spaceflight' (2004), 'Europe's space programme' (2003), 'Two roads to the moon' (with Dave Shayler)(forthcoming), 'Russian planetary exploration' (forthcoming), 'Latest in space 2007' (forthcoming), all Praxis titles. Writer on articles on spaceflight for Astronomy Now, Orbit, Spaceflight, Journal of the British Interplanetary Society (JBIS), Space Chronicle, Astronomy & Space, Sunday Press, Quest, Irish Independent. Broadcaster for RTE, BBC (Radio 4, World Service), Canadian Broadcasting.