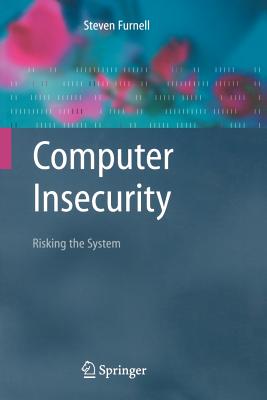 Computer Insecurity (Paperback)
Risking the System
Springer, 9781852339432, 240pp.
Publication Date: October 10, 2005
* Individual store prices may vary.
Description
Security is one of the most significant issues facing the owners and users of computer systems in the Internet age, and recent years have convincingly illustrated that the problem is increasing in both scale and cost.
Computer Insecurity: Risking the System approaches its topic from the perspective of vulnerability - how can your system be attacked? Covering technical issues and human factors, the comprehensively researched text makes reference to numerous real-life security incidents, which help to provide persuasive practical evidence of the problems and the impacts that result.
Key issues covered include:
the problem of computer insecurity
the need to raise security awareness
common failings that compromise protection
the attack and exploitation of systems
considerations in responding to the threats
Presented in clear and lucid terms, the discussion is invaluable reading for all business and computing professionals who wish for an overview of the issues rather than a shopping list of the security measures available.
'In today's connected world no-one can afford to ignore computer security, this book tells you why, and what you should do about it, in simple non-technical language.'
Dr Jeremy Ward, Director of Service Development, Symantec (UK) Ltd
'Computer Insecurity contains loads of practical advice supported by an abundance of real world examples and research. If you don't understand what all the fuss concerning computer security is about then this book was written for you.'Jeff Crume, CISSP
Executive IT Security Architect, IBM and author of 'Inside Internet Security - What hackers don't want you to know'
'I have long been looking for a book that would give answers to why rather than how we cater for Information and Communication Systems Security ... I recommend it wholeheartedly to anyone that wishes to extend their knowledge'
Professor Sokratis K. Katsikas, University of the Aegean, Greece
About the Author
Dr. Steven Furnell is a reader in information systems security at the University of Plymouth, and has already published one book: "Cybercrime: Vandalising The Information Society", Paperback: 336 pages; Publisher: Addison-Wesley Pub Co; 1st edition (December 21, 2001), ISBN: 0201721597. Aside from the assigned reviewers and a number of Dr Furnell's academic colleagues, the manuscript has also been read by Dr Jeremy Ward, Service Development Director of for Symantec UK, who provided summary feedback describing it as "really excellent".