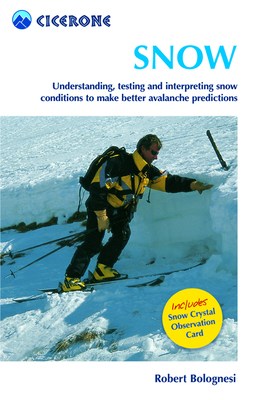 Snow (Paperback)
Assessing and understanding snow conditions to predict avalanches better
Cicerone Press Limited, 9781852844745, 64pp.
Publication Date: March 1, 2007
* Individual store prices may vary.
Description
This practical guide is aimed at walkers, climbers and snowsport enthusiasts who want to acquire or improve their knowledge of snow and avalanche release. It is also for snow professionals, guides, mountaineering and snowsport instructors and ski patrollers.It describes the process of formation and evolution of snow and shows practical methods of examining and analysing the snow cover. It throws light on how best to understand the many forms which snow may take, and on how to assess avalanche risk more precisely and reliably. It includes a system of snow observation and a snow crystal card.The instability of the snowpack depends very much on its physical make-up. What is snow? How is it formed? How does it change? Where and when is it dangerous? This book will attempt to provide a few answers to these questions by examining:. Forms of snow crystals. Snow crystal changes on the ground. How these changes affect snow cohesion. How to estimate weakness of the snowpack from: continuous meteorological observation, snow profiles, stability tests. Stratigraphy and stability of the snowpack.
About the Author
Blyth Wright (translator) was formerly Assistant Director of the International School of Mountaineering in Leysin, Switzerland, then worked for 20 years as an Instructor at Scotland's Glenmore Lodge National Sports Centre. For the past 16 years he has acted as Co-ordinator of what is now the sport scotland Avalanche Information Service.