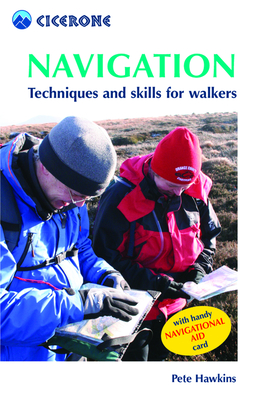 Navigation (Paperback)
Using your map and compass (mini-guides)
Cicerone Press Limited, 9781852844905, 128pp.
Publication Date: April 25, 2007
* Individual store prices may vary.
Description
Owning a compass isn't everything.  Knowing how and when to use it is!  Contrary to what many walkers think, using a compass is straightforward and easy to learn.

This practical guide will help you get the most out of your map and give you the key skills to using your compass.  It's then down to you.  As with any skill, knowledge isn't enough.  Practice will make perfect, and with that will come the freedom and confidence to enjoy our hills and mountains.

Pete Hawkins is a qualified mountain leader, freelance journalist and the author of Map and Compass published by Cicerone. He writes the monthly navigation column for a leading walking magazine.

    •    Why use a map and a compass
    •    Map essentials – scale, grids, contours,
    •    Map symbols and contours
    •    Walking with your map
    •    Choosing your compass
    •    Taking a bearing
    •    Taking bearings from ground
    •    Walking with your map and compass
    •    Route planning
    •    What to do at night or in bad weather
    •    New technology - GPS & computer mapping
About the Author
As a navigation instructor he has taught both beginners how to read a map and compass and the more experienced how to hone their navigation skills. He runs the Silva-sponsored Map and Compass Courses.He has written for a variety of outdoor magazines, has worked for the BBC as a local radio reporter and leads hiking holidays around the world.