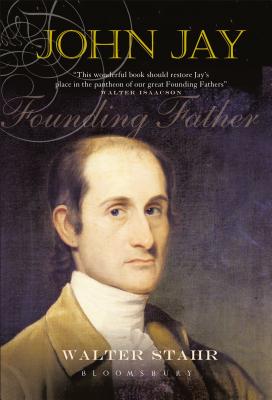 John Jay
Hardcover

* Individual store prices may vary.
Other Editions of This Title:
Paperback (8/22/2017)
Paperback (5/17/2006)
Description
John Jay was a central figure in the early history of the American Republic. A New York lawyer, born in 1745, Jay served his country with the greatest distinction and was one of the most influential of its Founding Fathers. In the first full-length biography in almost seventy years, Walter Stahr brings Jay vividly to life, setting his astonishing career against the background of the American Revolution.
Drawing on substantial new material, Walter Stahr has written a full and highly readable portrait of both the public and private man. It is the story not only of John Jay himself, the most prominent native-born New Yorker of the eighteenth century, but also of his engaging and intelligent wife, Sarah, who accompanied her husband on his wartime diplomatic missions. This lively and compelling biography presents Jay in the light he deserves: as a major Founding Father, a true national hero, and a leading architect of America's future.
Praise For John Jay…
"Walter Stahr has not only given us a meticulous study of the life of John Jay, but one very much written in the spirit of the man. It is thorough, fair, and consistently intelligent and presented with the most scrupulous accuracy." --Ron Chernow, author of Alexander Hamilton

"John Jay was a brilliant and fascinating statesman who, along with his friend Benjamin Franklin, helped define the values of American diplomacy. Walter Stahr writes with great insight, and this wonderful book should help restore Jay's place in the pantheon of our great Founding Fathers." -- Walter Isaacson, author of Benjamin Franklin: An American Life

"John Jay, the Founding Father most ignored by historians, has long awaited a good biography. Here it is! Jay played salient roles in many crucial aspects of the founding of the nation. He served in the Continental Congress, held diplomatic posts, played a vital role in the ratification of the Constitution, sat on the Supreme Court, and was governor of New York during the intensely partisan 1790s. Now, at last, a fine biography of this exceptional man is available. Walter Stahr has written a sensitive, illuminating, and provocative life history of Jay that will be welcomed by all who are interested in the American Revolution and the establishment of the Republic."--John Ferling, author of A Leap in the Dark: The Struggle to Create the American Republic and Adams Verses Jefferson: The Election of 1800

"The Federalists built the foundation of our modern American government, and no Federalist
leader better exemplifies their vision for a soon-to-be vast and great nation than John Jay.
Co-author of the Federalist Papers, President of the Continental Congress, Secretary for
Foreign Affairs, Chief Justice, Governor: this towering figure of the legislative, executive,
and judicial branches made an amazing and indelible imprint on a nation destined to become the world's sole superpower. Walter Stahr's engrossing biography captures as no other book the complex character and profound thought of this influential American Founder, in the process helping us understand how a 55-year-old Governor of New York could decide to retire permanently from public life -- by rejecting the President's nomination, and the Senate's vote of ratification, that would have made him once again Chief Justice of the U.S. Supreme Court." -- U.S. Rep. Christopher Cox (CA), Chairman, House Policy Committee

"For twenty five years, John Jay served his country as congressman, diplomat, chief justice, governor and polemicist, yet managed to retire beloved by everyone. Walter Stahr adds his portrait to the gallery of America's founders." --Richard Brookhiser, author of Gentleman Revolutionary: Gouverneur Morris, The Rake Who Wrote the Constitution

"The greatest founders--such as Washington and Jefferson--have kept even the greatest of the second tier of the nation's founding generation in the shadows. But now John Jay (1745--1829), arguably the most important of this second group, has found an admiring, skilled student in Stahr, an international lawyer in Washington. D.C. Since the last biography of Jay appeared 60 years ago, a mountain of new knowledge about the early nation has piled up, and Stahr uses it all with confidence and critical detachment. Jay had a remarkable career. He was president of the Continental Congress, secretary of foreign affairs, a negotiator of the treaty that won the United States its independence in 1783, one of three authors of The Federalist Papers , first chief justice of the Supreme Court and governor of his native New York. Very few men exceeded Jay in importance and influence. Yet he presents a problem for any biographer: he was a conservative man of unfailingly sober disposition who left his mark more in significant deeds than in memorable words and commanding decisions. Stahr, however, captures both his subject's seriousness and his thoughtful, affectionate side as son, husband, father and friend. In humanizing Jay, Stahr makes him an appealing figure accessible to a large readership and places Jay once again in the company of America's greatest statesmen, where he unquestionably belongs." --Publishers Weekly"John Jay's writings lacked Jefferson's passionate eloquence in defense of liberty; his demeanor did not radiate the gravitas of Washington; he apparently did not share Madison's zest for and grasp of political theory. Yet, as this well-done biography illustrates, Jay was a vital figure in the founding of our republic, and he deserves an ample share of credit for the nurturing of our nation in its infancy. Stahr, an international lawyer, has written a fast-paced narrative account of Jay's life that stresses his deep religious connections, strength of moral character, and dedication to duty. By nature, Jay was conservative, and he was a reluctant revolutionary with the usual Federalist fears about unrestrained democracy. As an attorney and as first chief justice of the Supreme Court, he understood implicitly the need for the rule of law to prevail over the tendency to seek salvation from "great" men. He was a gifted diplomat whose negotiations in Europe helped our vulnerable nation to avoid conflicts with European powers, and he was an effective governor of New York." --Booklist
"Walter Stahr's excellent new biography should reestablish Jay's standing as one of America's great statesmen. It portrays Jay's life with a balance and command of the material worthy of the subject....This biography has the considerable virtue of being justly admiring without being fawning. Stahr notes Jay's propensity to be especially sharp with some of his extended relations. And while admiring Jay's longstanding opposition to slavery, he chides him for keeping slaves of his own and not freeing them expeditiously or graciously. Stahr minces no words about the virulence of Jay's anti-Catholicism, a product of the persecution of his Huguenot forebears...Walter Stahr deserves high praise for recovering the legacy of a great American statesman, and a remarkable man." --Weekly Standard
"Walter Stahr, an independent scholar, has written a fascinating, learned and beautifully written biography about a major figure of the American Revolution, one who has been too long overlooked. Mr. Stahr deserves consideration for the Pulitzer Prize for biography. His loving description of Manhattan in Jay's time filled me, a onetime New Yorker, with nostalgia... Stahr's biography, which sometimes reads like a novel because of its episodic quality, has opened up a whole new vista of the 13 colonies on the eve of battle and the miraculous aftermath that made possible the United States of America. I look forward to reading more history from this gifted scholar." --Washington Times




Bloomsbury Publishing PLC, 9781852854447, 496pp.
Publication Date: March 1, 2005
About the Author
Walter Stahr is an international lawyer for Emerging Markets Partnership in Washington, DC. He lives in Vienna, Virginia.