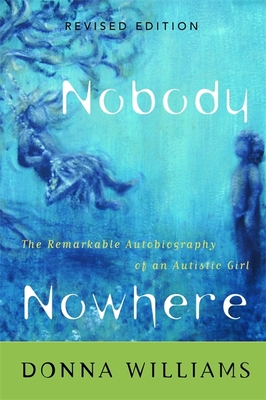 Nobody Nowhere (Paperback)
The Remarkable Autobiography of an Autistic Girl
Jessica Kingsley Publishers, 9781853027185, 192pp.
Publication Date: December 1, 1998
Other Editions of This Title:
Paperback (1/1/1992)
Compact Disc (2/1/2000)
* Individual store prices may vary.
Description
Donna Williams was a child with more labels than a jam-jar: deaf, wild disturbed, stupid insane... She lived within herself, her own world her foreground, ours a background she only visited. Isolated from her self and from the outside world, Donna was, in her words, a Nobody Nowhere. She swung violently between these two worlds, battling to join our world and, simultaneously, to keep it out. Abandoned from all connection to the self within her, she lived as a ghost with a body, a patchwork of the images which bombarded her. Intact but detached from the seemingly incomprehensible world around her, she lived in what she called 'a world under glass . After twenty-five years of being misunderstood, and unable to understand herself, Donna stumbled upon the word 'autism' a label, but one which held up a mirror and made sense of her life and struggles, and gave her a chance to finally forgive both herself and those around her. Nobody Nowhere is disturbing, eloquent and ticklishly funny: it is an account of the soul of someone who lived the word 'autism' and survived in an unsympathetic environment despite intense inner chaos and incomprehension. It describes how, against the odds, Donna came to live independently, achieve a place at university, and write this remarkable autobiography. It is now an international bestseller, sold in over 14 languages throughout the world. This is a book that will stay with you as one of the most exceptional works you will ever read.
About the Author
Donna Williams was born in Australia in 1963 and raised in a working-class inner-city area in Australia. She grew up hearing words such as `deaf', `disturbed', `crazy' and `spastic', and like many able people with autism born in the 1960s and earlier, she was wasn't formally diagnosed with autism until adulthood. As well as writing, composing, painting and sculpting, she lectured and ran workshops on autism all around the world.