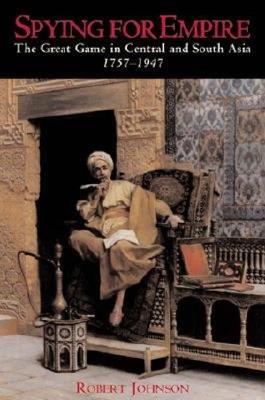 Spying for Empire
The Great Game in Central and South Asia 1757-1947
Hardcover

* Individual store prices may vary.
Description
'The Great Game' was the struggle between Russia and Britain for imperial influence over southern and central Asia, immortalized by Rudyard Kipling in his novel Kim. For the British, the threat to India's frontiers compelled them to dispatch diplomats, or more clandestine agents, to survey, map and monitor the approaches to the Indian subcontinent. Anxieties about Russian ambitions in central Asia were magnified by the discovery of military plans and the arrival of 'shooting parties' and 'scientific explorers' on the mountains adjacent to India's northern border. The British faced major problems compounded by the unresolved status of Afghanistan, the interception of agents, and the division of opinion in British military and political circles about the real or imagined nature of the Russian threat to India. The situation was further complicated by the instability of the Indian border area, a region through which British and Indian troops would need to operate in wartime, but which was inhabited by bellicose tribesmen who fought the imposition of British rule every step of the way. Spying for Empire gives a fascinating insight into how the British intelligence network worked in the 1800s. It also examines how the intractability of Afghanistan plagued imperial defense planners, and how the threat of conflict with Russia colored Britain's dealings with the peoples of south-west Asia.
Praise For Spying for Empire: The Great Game in Central and South Asia 1757-1947…
Journal of Slavic Military Studies, Summer 2007
"This fine contribution from Robert Johnson, while lacking the stimulating writing style of semi-popular works such as Peter Hopkir's 'The Great Game,' or Karl Meyer and Shareen Brysac's 'Tournament of Shadows,' provides much of the archival documentation missing from these earlier works and in the process both widens the definition of intelligence and the time frame and geographical scope to present a more positive assessment of British efforts … Johnson is to be commended for providing an excellent overview of British intelligence efforts in Asia which draws on extensive archival research in Britain to update, and in many cases surpass, much earlier work."
Greenhill Books, 9781853676703, 304pp.
Publication Date: May 1, 2006
or
Not Currently Available for Direct Purchase