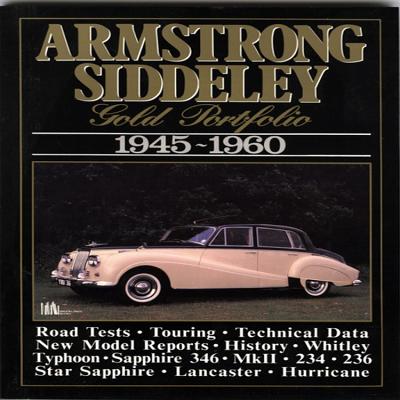 Armstrong Siddeley (Paperback)
Gold Portfolio 1945-1960
Brooklands Books Ltd, 9781855200692, 180pp.
Publication Date: April 27, 1991
* Individual store prices may vary.
Description
Armstrong Siddeley released their new Two-Litre model in 1945. Several versions were built over the following years with the total production run being 22,717. In 1953 the company introduced the luxury Sapphire 346 followed by the Star Sapphire. However, the car division was losing money and it was closed in 1960 to pursue more profitable activities. A solitary Star Sapphire Mk II being the last car built. This book covers road tests with technical and performance data, buying used and a small historical section. Models covered are 16/18 HP, Sapphire 234, Sapphire 236, Sapphire 346, Star Sapphire and Star Limousine, Typhoon, Hurricane Drophead CoupT, Sapphire Limousine, Whitley, Lancaster.
Praise For Armstrong Siddeley: Gold Portfolio 1945-1960…
Cars of the Connoisseur newsletter, December 2006, UK
This 30 year 484 page labor of love is a unique blend of social, economic and industrial history, chronicling the full story of the company from Siddeley's birth to the present day. I asked 'connoisseur' and Armstrong Siddeley owner John Beaumont for his expert opinion and he reports as follows:

This mammoth book was launched in June at Palace House, Beaulieu with a display of cars and their owners and was heralded as a masterpiece. Apart from John Siddeley's family, the involvement of Lord William Armstrong, the Wolsley and Rothschild families, and W.O. Bentley and his design team are explained in detail. Of particular interest is the sale by John Siddeley to Tommy Sopwith in 1936 of what became the Hawker Hurricane fighter. 'This courageous foresight (with an initial order of only 200 from the Air Ministry) was a major factor in winning the Battle of Britain. Several of us are proud owners of Armstrong Siddeley Hurricanes to this day. 

Fascinating social commentaries of the time are the list of prominent owners of each model, but the political and economic background is not forgotten and the relationship between the aero and car companies is well covered. Author Bill Smith has owned Armstrong Siddeley cars since 1968, becoming the Club Historian since 1976 and this tome is a treasure which will appeal to many other enthusiasts outside the realm of Armstrong Siddeley.

Classics Monthly magazine, October 2006, UK
If you've an interest in Armstrong Siddeley then do whatever you need to do to own this book. Sell the kids, go without food, but don't forget to strengthen your book shelves as 500 pages are heavy. Every fact and figure, chassis by chassis, is here - including the AS trains and planes. All images are black and white but that's the only criticism. A very specialist title but, with this high level of quality, stocks deserve to sell out quickly.

Classic Cars magazine, August 2006, UK
Armstrong Siddeleys were once some of Britain's most stylish and technically-sophisticated cars and this is indeed the definitive account of the marque and its life over four decades. The book covers the maker's economic, design and model history as well the links between the aeroplane and car companies. It's backed up with period photographs, although all of the 496 medium-format pages are black and white only, and It includes details on cars by chassis number as well as recent club activities. A thorough account best left for Armstrong Siddeley lovers.
Review by Paul Guinness for Classic Car Mart, September 2006 (UK) 
If size is everything, then this latest tome from Veloce Publishing is an absolute masterpiece. With 496 pages and the same number of photographs and illustrations throughout, Armstrong Siddeley Motors by Bill Smith is the heftiest hardback book we've seen all year. And at $139.95, it's also one of the most expensive.

At that price, you'll need to be a real Armstrong Siddeley aficionado to invest in this book. Assuming you do, though, you're guaranteed the most comprehensive, most finely detailed tribute to the brand. And no wonder, given the fact that author Smith has been researching the subject for the past thirty years!

Bill Smith is, in fact, Historian of the Armstrong Siddeley Owners' Club, having owned Armstrong Siddeley cars himself since 1968. Not surprisingly, he knows his stuff; and although this incredibly informative book might seem a little 'anoraky' at first glance, you can't help admiring the author's dedication to the subject and his amazing depth of knowledge.

Armstrong Siddeley Motors covers the entire history of the marque – and much more. From the birth of J.D. Siddeley in 1866, through the formation of the Siddeley Autocar Company 36 years later, the subsequent launch of the Siddeley Autocar 6hp Light Car and the involvement of both the Wolseley and Rothschild families in the marque, the company's earliest history makes particularly fascinating reading, putting into perspective the struggles and turmoil experienced by those early pioneers of car manufacturing.

And so the story goes on, taking the reader through the entire history of Siddeley Autocars and what would become Armstrong Siddeley – from the enormous offerings of the 1920s through to the restrained post-modernist designs of the Fifties. There's also superb coverage of all known surviving models, as well as tributes to those enthusiasts who help to encourage interest in the marque today.

This highly specialized book will only appeal to the dedicated Armstrong Siddeley fanatic. If that's you … well, there's nothing else quite like this currently available. It's a major piece of work by any standards.
Review from Hemmings Sports & Exotic Car, December 2006
Almost $140 for a book on a defunct British marque that most Americans have never heard of? We can understand if you're taken aback, but spend a few enjoyable hours with this generously sized, 496-page volume and you might just conclude that it's a bargain. Bill Smith has been gathering material for this book since he became historian of the Armstrong Siddeley Owners' Club three decades ago, and his enthusiasm for the cars and their history is infectious.

Those familiar with Armstrong Siddeley don't need to be told that the company earned enormous respect as a maker of quality, stylish vehicles during their 41 years of existence. Every detail about those years – more, even, as it draws the timeline back to J.D. Siddeley's birth in 1866, and forward to present-day enthusiasts' clubs – is lovingly recounted in this book. There is an average of one photograph per page, and the introductory disclaimer says it all: "A number of the images in this publication are of poor quality. Such images have been included because of their rarity and historical importance." Which means you're unlikely ever to find these photos, diagrams and other images elsewhere. The printing is done in black and white, on artpaper pages.

Our editor-in-chief, Richard Lentinello, put it exactly right when he called this the type of book that buyers will be searching out years after it has gone out of print, all the while kicking themselves for not having bought it when they had the chance. This is an impressive and exhaustive book, and deserves a place in any automotive historian's collection.
or
Not Currently Available for Direct Purchase