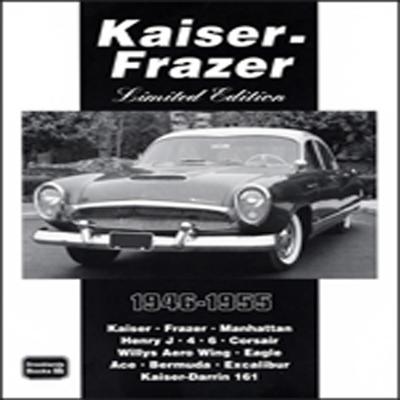 Kaiser-Frazer Limited Edition 1946-1955 (Paperback)
Brooklands Books Ltd, 9781855203709, 92pp.
Publication Date: April 15, 1997
* Individual store prices may vary.
Description
The Kaiser-Frazer automotive adventure would have to go down in history as one of the greatest "lost causes" of all time. Born out of the optimism of victory in World War II, the two magnates pooled their resources to take on the Establishment in Detroit. That they gambled and lost is now history and the automobile world is the richer for their efforts. Both Henry Kaiser and Joe Frazer had made a fortune out of armament supplies for the war and decided to tackle General Motors, Ford and Chrysler head-on once the conflict was over. As Preston Tucker found out to his cost, this was not something to take lightly. Starting with a clean sheet of paper they chose well-known designer Howard Darrin to style their cars, both would be essentially the same apart from some trim items. From an engineering point of view, although they considered such technically advanced ideas as front-wheel drive, torsion bar suspension and unit construction, they opted to follow the convention as established by the rest of the American motor manufacturers, that is, a body-on-frame with front engine and rear wheel drive. Only the aforementioned Tucker chose to be the maverick. Where the rest of Detroit's offerings were merely warmed over pre-war cars, with the exception of Studebaker, the Kaiser and Frazers were the first of a new breed as far as styling was concerned. Darrin successfully predicted in 1946 the coming slab-sided style that would emerge internationally in 1950 as the style of the future. K-F was also a pioneer in America of the fibreglass bodied sports car when in 1953 they released the unusually-styled Kaiser-Darrin with its sliding doors. Needless to say the conservative American buyers did not warm to that! K-F even pioneered the hatchback concept with their Traveller range, another feature that was ahead of its time. By the mid-50s with plummeting sales and mounting losses K-F joined forces with Willys Overland which doubled their range of vehicles on offer but it was not long before car production was moved to South America where it continued for many years. Today we have the legacy of Joe and Henry and their automobiles and in particular the Kaiser-Darrin sports car of which few have survived. Including are road tests, new model intros plus historical articles. Models covered: Manhattan, four- & six-cylinder Henry Js & Corsair, Willys Aero Wing, Ace, Eagle, Bermuda, Excalibur & Kaiser-Darrin 161 sportscar.
or
Not Currently Available for Direct Purchase