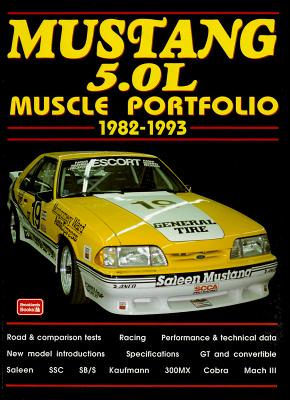 Mustang 5.0L Muscle Portfolio 1982-1993 (Paperback)
Brooklands Books Ltd, 9781855204751, 140pp.
Publication Date: December 25, 1998
* Individual store prices may vary.
Description
The new 5.0L model was introduced to redress the flagging appeal of the Mustang. With 157bhp it turned the new car into the quickest Mustang in years, with zero to 60mph times of under 8 seconds. In 1983 power was raised to 175bhp and in 1985 to 210bhp. New emissions regulations meant a switch to fuel injection and in 1986 it dropped back to 200bhp. The 1987 facelift brought the power back to 225bhp which lasted until the end of its days. This is a book of contemporary road and comparison tests, specification and technical data, new model introductions, car conversions. Models covered include: 5.0LGT, convertible, Saleen Signature, Project 514, Saleen Mustang, Kaufmann Mustang, JBA/Saleen Mustang, Saleen SSC, LX 5.0L, Saleen SB/S, NOS/Saleen, Mustang SC, Mustang Cobra, Mach III.
or
Not Currently Available for Direct Purchase