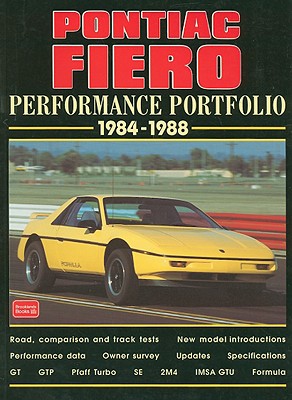 Pontiac Fiero 1984-1988 -Performance Portfolio (Paperback)
Brooklands Books Ltd, 9781855205321, 140pp.
Publication Date: December 3, 2000
* Individual store prices may vary.
Description
The original Fiero was no ball of fire with the Iron Duke 4-cylinder engine; enthusiasts had to wait for the V6 for any real performance. The style and configuration was inspired by the Fiat X/19. The Fiero pioneered new production technology in the form of a steel space frame clothed with bolt-on plastic panels. Quality control was inconsistent with some customers feeling as if they were doing on the road development for the company. Production was stopped after just five years, just as it was just getting into its stride. This is a book of contemporary road and comparison tests, new model introductions, specification and technical data, driving impressions, owner's survey, racing, history, buying second hand. Models covered include:- 2M4 SE, SE, Pfaff Turbo, GT, GT V6, GTU, Formula.
or
Not Currently Available for Direct Purchase