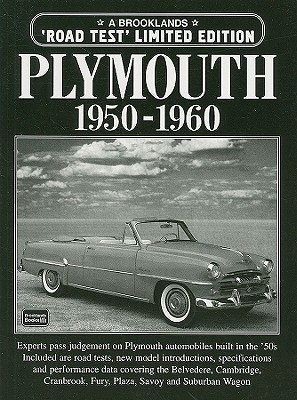 Plymouth 1950-1960 (Paperback)
Brooklands Books Ltd, 9781855205864, 92pp.
Publication Date: February 23, 2002
* Individual store prices may vary.
Description
Immediate post-war designs of most cars, from any manufacturer, had more than a hint of their pre-war brethren and Plymouth was no exception. New developments, however, were on the way and arrived in 1950. Although functional they were not style leaders. Few changes were made until 1953 which bought a complete re-design of which there were few criticisms regarding the standard of workmanship and interior fittings. The engine was still the old side-valve six and there was no automatic transmission as yet, but the cars ride and handle well with good durability. By 1957 the Plymouth Fury was being described as an enthusiast's car, the V8 engine making an enormous performance difference, and Torsion-Aire Ride was introduced. The engineering changes made this year were to stay with Plymouth for many years. This is a book of contemporary road and comparison tests, specification and technical data, new model intro's, driver's reports and track tests. Models covered include: Cambridge, Cranbrook, Suburban Station Wagon, Explorer, Belvedere, Sport Coupe, V8, Plaza, Fury, Savoy.
or
Not Currently Available for Direct Purchase