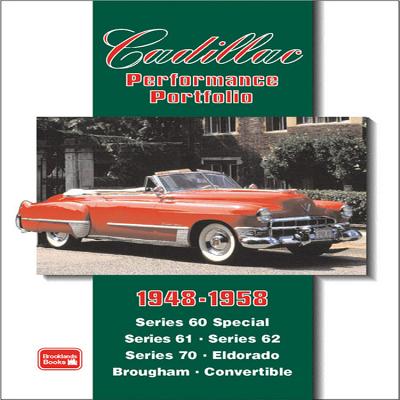 Cadillac 1948-1958 Performance Portfolio (Paperback)
Brooklands Books Ltd, 9781855206632, 128pp.
Publication Date: September 30, 2004
* Individual store prices may vary.
Description
During the '50s, Cadillac celebrated its 50th Anniversary and enjoyed the reputation of being America's favorite luxury car and this book traces the progress of the post-war 60, 61, 62 and 70 Series models. Covers the Cadillac Series 60 Special, Series 61, Series 62, Series 70, Eldorado, Brougham and Convertible. Reveals road tests, new model introductions, consumer analysis, specifications and performance data.This Performance Portfolio replaces our earlier 100 page book, which is now out of print 47 articles are sourced from Autocar, Car Life, Classic American, Hop Up, Modern Motor, Motor Age, Motor, Motor Life, Motor Sport, Motor Trend, NZ Classic Car, Popular Mechanics, Popular Science, Science and Mechanics, Special Interest Autos and Wheels.Articles include: 'The high compression Cadillacs', 'Convertible converts - Series 62', 'Road testing the 50th anniversary Cadillac - Series 62', 'Cadillac - America's favourite luxury car', 'Cadillac: El Camino, Park Avenue & La Espada', 'A new Cadillac for 1956 - Eldorado Brougham', 'A Barris bonanza', 'Buying a Cadillac for economy? - 60', 'Upscale Cadillac - Fleetwood Sixty special '58.
or
Not Currently Available for Direct Purchase