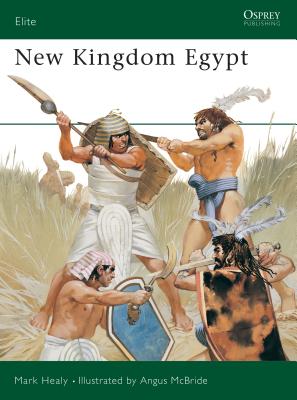 New Kingdom Egypt (Elite) (Paperback)
Osprey Publishing, 9781855322080, 64pp.
Publication Date: May 28, 1992
* Individual store prices may vary.
Description
Osprey's examination of the New Kingdom of Egypt (16th - 11th Century BC) and it's people. Builders of the Pyramids and most ancient of all the powers of the biblical world, the Egyptians remain one of history's most fascinating and enigmatic peoples. During the New Kingdom era, Egypt reached the peak of its power, wealth, and territory. Through the intensive military campaigns of Pharaoh Thutmose III (1490-1436BC), Palestine, Syria, and the northern Euphrates area in Mesopotamia were all brought within the New Kingdom. Mark Healy outlines the history, organisation and dress of the New Kingdom Egyptians in this volume packed with accompanying illustrations and photographs, including 12 full page colour plates by the ever popular Angus McBride.
About the Author
Mark Healy was born in 1953. He has a Master's degree in Political Theology from Bristol University. He is by profession a schoolteacher and is head of the Humanities faculty in a large school in Somerset. He has written a number of Osprey titles including Elite 40 New Kingdom Egypt and Campaign 16 Kursk 1943. He has a great interest in both the ancient and modern periods, is married with one son and lives in Dorset.
or
Not Currently Available for Direct Purchase