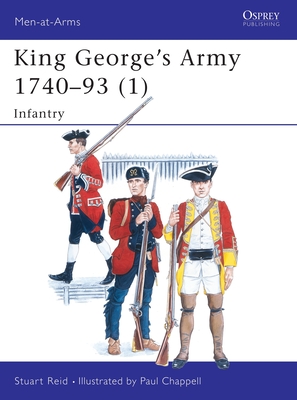 King George's Army 1740 93 (1): Infantry (Paperback)
Infantry
Osprey Publishing (UK), 9781855325159, 48pp.
Publication Date: July 17, 1995
* Individual store prices may vary.
or
Not Currently Available for Direct Purchase
Description
To most contemporary politicians the 18th century British Army was no more than an unwelcome necessity in wartime and an unjustifiable extravagance in peacetime. Nevertheless, the overall impression which is to be gained from a close study of the Army's own records, and from the surviving letters, diaries and memoirs, is that the British Army of the 18th century was very little different in character or in spirit from today's British Army. It was, above all, a force which was led, not driven, into battle. This book looks at the uniforms and organisation of the infantry of King George's Army as well as its participation in various conflicts, such as the War of the Austrian Succession (1740-1748) and the Seven Years' War (1756-1763).
About the Author
Stuart Reid was born in Aberdeen in1954 and is married with one son. He has worked as a librarian and a professional soldier and his main focus of interest lies in the 18th and 19th centuries. This interest stems from having ancestors who served in the British Army and the East India Company and who fought at Culloden, Bunker Hill and even in the Texas Revolution.
Advertisement