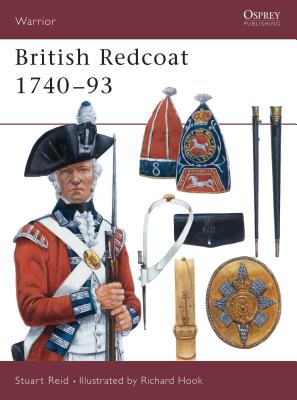 British Redcoat 1740–93 (Warrior) (Paperback)
Osprey Publishing, 9781855325548, 64pp.
Publication Date: January 15, 1997
* Individual store prices may vary.
Description
During this period, the British army earned itself a formidable reputation as a fighting force. However, due to its role as a police force at home, and demonisation by American propaganda during the American Revolution (1763-1776), the army was viewed as little removed from a penal institution run by aristocratic dilettantes. This view, still held by many today, is challenged by Stuart Reid, who paints a picture of an increasingly professional force. This was an important time of change and improvement for the British Army, and British Redcoat 1740-1793 fully brings this out in its comprehensive examination of the lives, conditions and experiences of the late 18th-century infantryman
About the Author
Stuart Reid was born in Aberdeen in 1954 and is married with two sons. He has worked as a librarian and a professional soldier and his main focus of interest lies in the 18th and 19th centuries. This interest stems from having ancestors who served in the British Army and the East India Company and who fought at Culloden, Bunker Hill and even in the Texas Revolution. His books for Osprey include the highly acclaimed titles about King George's Army 1740-93 (Men-at-Arms 285, 289 and 292), and the British Redcoat 1740-1815 (Warrior 19 and 20).
Richard Hook is an internationally acclaimed artist, renowned for his paintings of Native American culture.