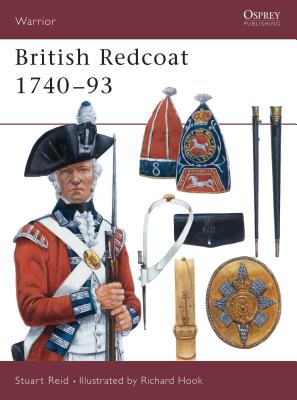 British Redcoat 1740-93 (Paperback)
Osprey Publishing (UK), 9781855325548, 64pp.
Publication Date: January 15, 1997
Description
During this period, the British army earned itself a formidable reputation as a fighting force. However, due to its role as a police force at home, and demonisation by American propaganda during the American Revolution (1763-1776), the army was viewed as little removed from a penal institution run by aristocratic dilettantes. This view, still held by many today, is challenged by Stuart Reid, who paints a picture of an increasingly professional force. This was an important time of change and improvement for the British Army, and British Redcoat 1740-1793 fully brings this out in its comprehensive examination of the lives, conditions and experiences of the late 18th-century infantryman.
About the Author
Stuart Reid was born in Aberdeen in 1954. His lifelong interest in military history has led to a longstanding involvement in historical re-enactment, which has broadened into work as a military advisor-cum-troop-instructor for film companies. His other titles for Osprey include a three-volume work in the Men-at-Arms series on King George's Army 1740-1793 and Warrior 21 Highland Clansman 1689-1746.
Advertisement