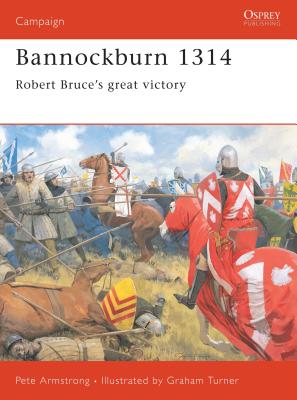 Bannockburn 1314: Robert Bruce's Great Victory (Paperback)
Robert Bruce's Great Victory
Osprey Publishing (UK), 9781855326095, 96pp.
Publication Date: March 25, 2002
Description
Osprey's study of the Battle of Bannockburn, which was part of the First War of Scottish Independence (1296-1328) and the climax of the career of King Robert the Bruce. In 1307 King Edward I of England, 'The Hammer of the Scots' and nemesis of William Wallace, died and his son, Edward II, was not from the same mould. Idle and apathetic, he allowed the Scots the chance to recover from the grievous punishment inflicted upon them. By 1314 Bruce had captured every major English-held castle bar Stirling and Edward II took an army north to subdue the Scots. Pete Armstrong's account of this pivotal campaign culminates at the decisive battle of Bannockburn that finally won Scotland her independence.
About the Author
Peter Armstrong went to Keswick School after which he travelled widely before taking a degree in Fine Art at Maidstone College of Art. He was an art teacher for several years but is now among other things the sculptor behind Border Miniatures, specialising in producing military miniatures from the medieval period. In the course of his model making, Pete has amassed a wealth of research material and his writing is the fruit of these labours. Pete's previous publications include Ancient and Medieval Modelling in the Masterclass Series.
Advertisement