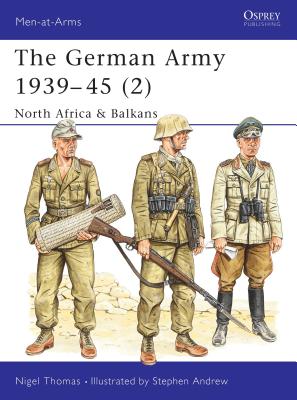 The German Army 1939-45 (2): North Africa & Balkans (Paperback)
North Africa & Balkans
Osprey Publishing (UK), 9781855326408, 56pp.
Publication Date: April 11, 1998
Description
Hitler first considered an invasion of Great Britain in autumn 1940, then scheduled Operation Barbarossa, the conquest of the European part of the Soviet Union, for May 1941. Anxious to emulate Hitler's successes, the Italian dictator Mussolini embarked upon unnecessary military adventures in North Africa and the Balkans, which forced Hitler's intervention, diverting and depleting precious German resources, and a six-week postponement of Barbarossa. In this second of four volumes Men-at-Arms 311, 316, 326 & 330] on the German Army of the Second World War, Nigel Thomas examines the uniforms and insignia of the forces involved in North Africa and the Balkans.
About the Author
Nigel Thomas is a graduate in French and German (BA Joint Honours, Manchester University, 1968; PGCE Durham University, 1972; MA German, Newcastle University, 1980), who has amassed a large archive of information on 20th century military uniforms and orders of battle. He has authored and co-authored many Osprey titles such as MAA 282 Axis Forces in Yugoslavia 1941-45 and is currently head of the Modern Languages Centre and Business Language Unit at the University of Northumbria.
Advertisement