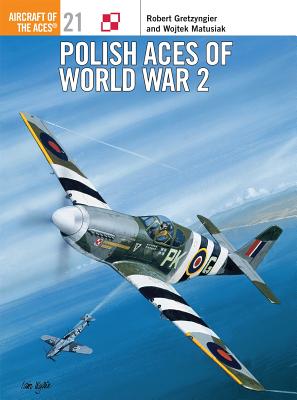 Polish Aces of World War 2 (Paperback)
Osprey Publishing (UK), 9781855327269, 100pp.
Publication Date: July 24, 1998
* Individual store prices may vary.
or
Not Currently Available for Direct Purchase
Description
Pilots of the Polish Air Force saw action from the first day of World War 2 until the final victory in Europe. Flying hopelessly outmoded P.11 fighters in defence of their country in September 1939, a handful of aviators inflicted serious losses on the Luftwaffe before being overwhelmed. The survivors escaped to then neutral Hungary and Romania, before being ordered to France by the new C-in-C of exiled Polish Armed Forces, General Sikorski. With the invasion of Western Europe in May 1940, the surviving pilots were once more thrust into desperate action in newly-formed Polish units.
About the Author
Although only in their early 30s, Robert Gretzyngier and Wojtek Matusiak are not only co-editors of Poland's most pre-eminent monthly aviation journal, Skrzydlata Polska, but they have also researched the subject of Polish aces more thoroughly than any other aviation historians in Europe. Indeed, their knowledge of non-Polish RAF aces in general rivals that of many British historians.
Advertisement