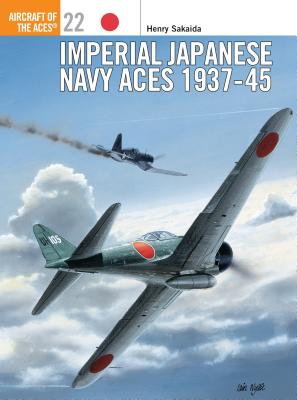 Imperial Japanese Navy Aces 1937 45 (Paperback)
Osprey Publishing (UK), 9781855327276, 116pp.
Publication Date: August 28, 1998
Description
The outcome of the Pacific War was heavily influenced by the results of naval battles between the Imperial Japanese fleet and the US Navy. One of the key elements was Japan's large fighter component, which had gained experience over Manchuria, China and Mongolia in the late 1930s. Flying A5Ms, at least 21 pilots achieved 'acedom' securing air superiority for the invaders. Manufacturer Mitsubishi derived much from these campaigns, producing one of the best fighters of the War, the A6M Zero-Sen. Navy pilots proved to be highly skilled when engaged by the Allied forces, Pacific. Pilots like Nishizawa, Sagita and Sakai scoring more than 60 kills apiece.
About the Author
A third generation Japanese American (Sansei), Henry Sakaida has spent much of his life researching the shadowy history of the Japanese fighter pilot. His eye for detail, and exhaustive research, has led to him being given access to much archive material by former aces who have remained silent since the end of the war.
Praise For Imperial Japanese Navy Aces 1937 45…
"Overall, this is an excellent summary of some very obscure, and more famous Japanese Naval Aces. In most cases, it is the only material where you will see certain names in print in English." -www.pacificwrecks.com
Advertisement