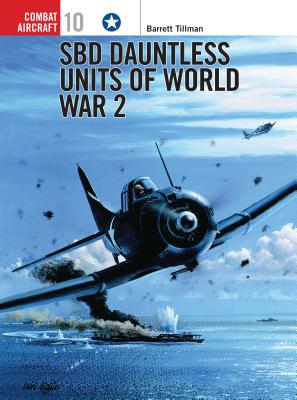 Sbd Dauntless Units of World War 2 (Paperback)
Osprey Publishing (UK), 9781855327320, 98pp.
Publication Date: November 27, 1998
Description
Unquestionably the most successful dive-bomber ever to see frontline service with any air arm, the Douglas SBD Dauntless was the scourge of the Japanese Imperial Fleet in the crucial years of the Pacific War of World War II (1939-1945). The revolutionary all-metal stressed-skin design of the SBD exhibited airframe strength that made it an ideal dive-bomber, its broad wing, with horizontal centre section and sharply tapered outer panels with dihedral, boasting perforated split flaps that doubled as dive brakes during the steep bombing attacks.
About the Author
Barrett Tillman is the world's most prolific US naval aviation author, having published over two-dozen titles on the World War 2 period alone. He has written numerous books for Osprey in recent years, and he is currently working on several future projects too.
Praise For Sbd Dauntless Units of World War 2…
"The impact of the battles the Dauntless participated is hard to calculate, but author Tillman brings forth many interesting facts, in particular that the statistic that the few SBD crews that served in the Pacific at the start of the war, patrolling the largest geographical area of any air unit in the world. Arguably, they had the greatest impact on their theater of war, participating in so many turning point battles, and flying to victory. For anyone interested in the history of the Dauntless and its crews, this book will have much to offer, for first time readers, and seasoned historians alike." -www.pacificwrecks.com
Advertisement