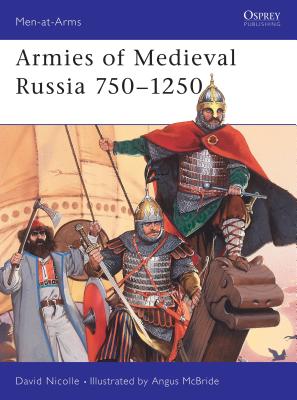 Armies of Medieval Russia 750-1250 (Paperback)
Osprey Publishing (UK), 9781855328488, 48pp.
Publication Date: November 15, 1999
Description
In the centuries following the first expeditions down the great rivers of northern Russia by Viking traders and adventurers, the foundations for a new state were laid. Many influences combined in this colourful culture which grew up first around the great cities of Kiev and Novgorod Scandinavian, Finnish, Slav, steppe Turkish, Byzantine. By the time of the Mongol invasions of the 12th century the small enclaves of the old pagan Rus', tolerated by the Khazar Khans for their commercial usefulness, had evolved into a Christian nation. Its story is told here in fascinating detail, and illustrated with striking colour reconstructions of the warriors themselves.
About the Author
David Nicolle PhD was born in 1944 and was educated at Highgate School. For eight years he worked in the BBC Arabic Service. In 1971 he went 'back to school', gaining an MA from the School of Oriental and African Studies and a PhD from Edinburgh University. For some years he taught art and architectural history at Yarmuk University, Jordan. David has written many Osprey titles, including MAA 140 Armies of the Ottoman Turks, MAA 320 Armies of the Caliphates 862-1098, and Campaign 43 Fornovo 1495.
Advertisement