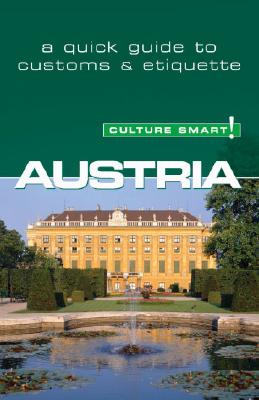 Culture Smart! Austria: A Quick Guide to Customs and Etiquette (Paperback)
A Quick Guide to Customs and Etiquette
Kuperard, 9781857333473, 168pp.
Publication Date: June 1, 2007
Description
The Austrians have a phrase, gemutlichkeit, an abstract noun that translates loosely as cosiness but it means much more than this. It carries the notion of belonging, social acceptance, cheerfulness, the absence of anything hectic. It could be time spent at home, the region of home, a garden or just a living room and people can also be described as gemutlichkeit. The Austrians care for their environment and have a strong sense of social responsibility. There are distinct social conventions and expectations that may seem old-fashioned to visitors. They are generous, accommodating and above all, gemutlichkeit. Culture Smart is a concise guide to understanding the Austrian people. It will illuminate the complexities of their collective personality. Familiarise yourself with their customs, traditions and culture and experience Austria authentically.
About the Author
Peter Gieler was born in Britain to Austrian parents. After gaining a B.A. in European Studies from the University of Sussex and a Diploma in Educational Technology, he embarked on a long career in educational training for several London authorities, and was Deputy Head Teacher in an Inner London comprehensive school. After retiring, he became General Secretary of the Anglo-Austrian Society. He has published several articles on culture and travel, and is the editor of Felix Austria, a quarterly journal about Austria published in the United Kingdom.
Advertisement