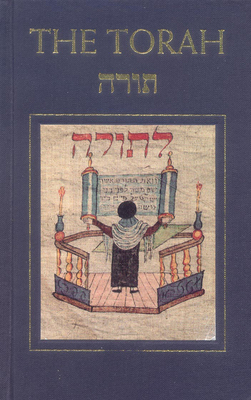 The Torah (Hardcover)
Kuperard, 9781857333800, 400pp.
Publication Date: November 15, 2010
Description
A classic early 20th century translation by the Jewish Publication Society is graced by reproductions of ancient frescoes, medieval illuminated manuscripts, and paintings by contemporary artists.
Bound in blue cloth with illuminated front cover, bears all the hallmarks of a classic work.
This edition brings together one of the most beautiful renderings of the Hebrew Bible in the English language with a wealth of Jewish art and imagery.
Seventy-four ancient colour illustrations using archive material from many major collections & museums enhance the epic journey through time of a unique people.
The text selected is the classic 1917 Jewish Publicaton Society translation which brings alive the history of the Jewish people in a classical way.
In addition to the contents a synoptic contents has been added to the beginning of each book of the Torah to help the reader locate the better known events and their themes.
The Hebrew texts as they actually appear in the Torah scroll have also been included for several significant passages.
This edition would grace any home or make an ideal present for any rite of passage.
An introduction by Rabbi Mariner sets the tone of this magnificent yet perfect sized edition of the best selling book in the world.
About the Author
Rabbi Rodney Mariner has served Belsize Square Synagogue as its spiritual leader since 1982 and in that time has inspired the Congregation to progress further along its chosen path of modern Jewish traditionalism. Born in Melbourne, Victoria, in 1941, he left school at 15 and worked for several years in industry as an engineering draughtsman. But his ambition lay in the field of education and he enrolled at Monash University, graduating with an Honours Degree in English Literature and European History. He also obtained a Diploma of Education and, for a time, taught English at a secondary school. His commitment to religious and moral issues turned him towards rabbinics and he won a scholarship to the Hebrew Union College in Jerusalem, completing his studies at Leo Baeck College in London, where he obtained semicha in 1976. He became Assistant Minister at the North Western Reform Synagogue, Alyth Gardens, and, in 1978, he accepted a call from Edgware and District Reform Synagogue. He was inducted as Rabbi of Belsize Square Synagogue by Rabbi Dow Marmur in April 1982. Since then he has devoted himself to his demanding pastoral duties and has applied his considerable talents as a teacher in both the youth and adult field. He has edited and translated the Synagogue's own prayer books for Shabbat, Evening Prayers and the Festivals and his reputation as a preacher has spread well beyond the Congregation itself. His work in the wider community includes the office of Convenor of the Rabbinical Court of the Reform Synagogues of Great Britain."
Advertisement