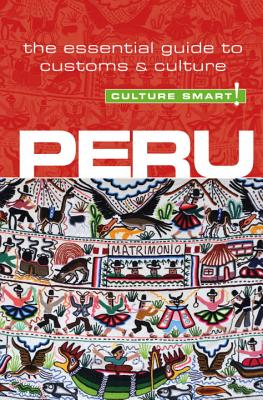 Culture Smart!: Peru: The Essential Guide to Customs & Culture (Paperback)
Peru: The Essential Guide to Customs & Culture
Kuperard, 9781857336672, 168pp.
Publication Date: October 30, 2012
* Individual store prices may vary.
or
Not Currently Available for Direct Purchase
Description
Peru is associated with ancient civilizations, awe-inspiring Inca cities, ruthless conquistadores, spectacular Andean scenery, astonishing biodiversity, and colorful woven textiles. All true--but visitors will find a great deal more to Peru than this. The two distinctive cultures that first encountered each other five hundred years ago have, progressively, integrated. This process of mixing, however, raises questions about Peruvian identity. Peruvian society is divided between the wealthy, Westernized, coastal urban populations and the poorer, traditional, indigenous peoples, many of whom have migrated from the Andes to the cities. Since the flight of the discredited President Fujimori in 2000 there has been a surge of economic growth and development, and continuing social inequality. Peruvians are increasingly embracing consumerism, but for their happiness they still depend on each other, and the family is paramount. This new, updated edition of Culture Smart Peru charts the rapid changes taking place in the country, including the election in 2011 of the left-leaning President Ollanta Humala, the third democratically elected president in a row. It describes how history and geography have shaped contemporary Peruvian values and attitudes. It provides insights into religious and public life, and reveals what people are like at home, in business, and in their social lives. Most Peruvians are laid-back and surprisingly calm and carefree, given the many uncertainties they face. They are outgoing and sociable. Get to know them, and they will respond with warmth and generosity.
About the Author
JOHN FORREST is a teacher and writer based in London. He first traveled to Peru in 1981, after graduating with a BA Comb.Hons in Geography and Statistics from Exeter University. He returned to Peru regularly to lead study tours and to research, write, and publish his own travel guide. He is a committee member of the Anglo-Peruvian Society and continues to visit Peru as Chairman of the Tambopata Reserve Society. JULIA PORTURAS was born in Peru and studied at La Catolica University in Lima and Birkbeck College, London. She graduated with a BA Hons in Hispanic and Latin American Studies. In Peru, she worked for several years for a major state enterprise, and she is now an administrator in London.
Advertisement