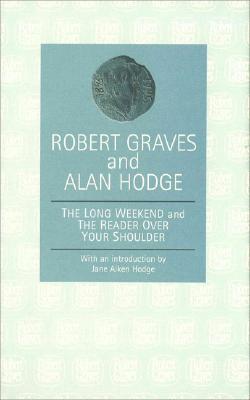 The Long Weekend and The Reader Over Your Shoulder (Paperback)
Carcanet Press Ltd., 9781857546644, 440pp.
Publication Date: May 1, 2006
* Individual store prices may vary.
Description
This contemporary edition makes available two of Graves's pieces of non-fiction that haave not been widely available since their original printing during the 1940s. In addition to the original text, this volume includes a substantial introduction that provides background information and literary criticism. The volume will be of use to students studying Graves as well as to scholars seeking both clean and durable editions of these previously obscure texts and analytical commentary from a literary scholar. As a companion piece to Graves's famous autobiography Goodbye to All That, this volume gives a broader perspective on the writer's understanding of WWI, its impact on English culture and his views on contemporary writing in England.
About the Author
Robert Graves (1895-1985), poet, classical scholar, novelist, and critic, was one of the greatest writers of the 20th Century. Athough he produced over 100 books he is perhaps best known for the novel I, Claudius (1934), The White Goddess (1948) and Greek Myths (1955). He was born in Wimbledon, South London. His father, Alfred Percival Graves, was a school inspector, and his mother, Amalie von Ranke Graves, was a great-niece of the German historian Leopold von Ranke (1795-1866). He was educated at Charterhouse, and awarded a B.Litt by St. John's College, Oxford after his return from World war I, where he served alsongside Siegfried Sassoon. Robert Graves died in 1985 in Deja, the Majorcan village he had made his home (with the exception of the Spanish Civil War and the Second World War) since 1929.Michelle Ephraim has published articles on topics such as the representation of Jewish women in Elizabethan literature, Shakespeare, and pedagogy. She is currently writing a book about dramatic adaptations of biblical narratives in early modern England.
Praise For The Long Weekend and The Reader Over Your Shoulder…
"There is eloquence, wit and a formal shapeliness in abundance from first to last."  —Michael Glover, Financial Times
"While poetry schools came and went, Graves went on writing until his death in 1985, in an elegant, classically inspired style."  —Andrew Crumey,
Scotland
"No one else offers his precise combination of eroticism, nightmare and epigram."— Sean O'Brien,
The Guardian
"Graves experiences in the trenches of the First World War are most vivid and moving."  —Robert Nye, Scotsman
"In his attitude to verse he remained a Georgian, an eccentric one."  —Eric Hester, Catholic Times
"Graves enshrines his archetypal motifs of obsessive love in legendary contexts from which the contemporary world is resolutely excluded."  —Mark Ford,
The London Review of Books
"One of the twentieth century's major writers."  —Richard Foster,
Yorkshire Evening Press
"Graves is a poet and a visionary in his prose writings, always stimulating and frequently enlightening."  —Patrick Reilly,
The Herald
or
Not Currently Available for Direct Purchase