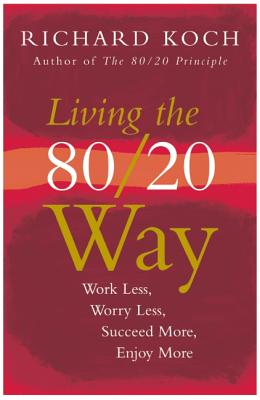 Living the 80/20 Way (Paperback)
Work Less, Worry Less, Succeed More, Enjoy More
Nicholas Brealey Publishing, 9781857883312, 198pp.
Publication Date: February 1, 2005
* Individual store prices may vary.
Description
In the provocative sequel to "The 80/20 Principle," Richard Koch shows readers, step-by-step, the process of harnessing the power of the 80/20 Principle. With a focus on building stronger relationships with family and friends, Koch argues that we can achieve more by dedicating time to the few things that matter most, while worrying less about work.
About the Author
Richard Koch is the author of thirteen books including the international bestseller, The 80/20 Principle which was named one of GQ's Top 25 Business Books of the Twentieth Century. Formerly a consultant with The Boston Consulting Group and a partner with Bain & Company, Koch is now a self-described lazy entrepreneur whose ventures have included consulting, personal organizers (Filofax), hotels (Zoffany), restaurants, and premium gin. He lives The 80/20 Way in London, Cape Town, South Africa, and the sunniest part of southern Spain. For more information, visit his website at www.the8020principle.com"