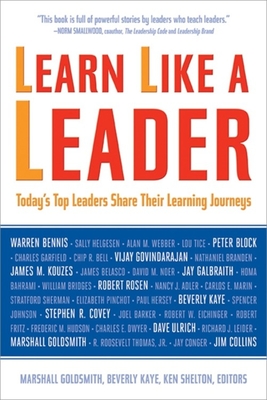 Learn Like a Leader (Paperback)
Today's Top Leaders Share Their Learning Journeys
Nicholas Brealey, 9781857885576, 228pp.
Publication Date: August 16, 2010
* Individual store prices may vary.
Description
More than a decade ago, a group of bestselling authors, thought leaders and management experts-among them Marshall Goldsmith, Beverly Kaye and Ken Shelton-met to share their defining moments on leadership with one another. So taken were they with each other's stories that an annual tradition of trading leadership secrets was established.

A recurring truth emerged: great leaders seize the opportunity to learn, again and again. Learn Like a Leader brings together these remarkable stories of learning and provides a close look at how top leaders-including Jim Collins, Warren Bennis and Dave Ulrich-were able to grow their careers, overcome setbacks and soar to the top.

Offering profound lessons from key learning moments in the lives and careers of the contributors, Learn Like a Leader conveys the power of storytelling in teaching, training and mentoring.
About the Author
Marshall Goldsmith (San Diego, CA) was ranked by the Wall Street Journal as one of the top 10 consultants in executive development. He is author or co-author of many best-selling business books including What Got You Here Won t Get You There and MOJO. Beverly Kaye (Los Angeles, CA) is president of Career Systems International and author of several top selling career management books including Love 'Em or Lose 'Em and Up Is Not the Only Way. Ken Shelton (Provo, UT) is chairman and editor-in-chief of Executive Excellence Publishing and publisher of Executive Excellence and Personal Excellence magazines.
Praise For Learn Like a Leader: Today's Top Leaders Share Their Learning Journeys…
If good leaders are good storytellersâ??and they areâ??then pull up your favorite chair to hear the voices of these top leadership experts. The tales of turning points in their livesâ??so vividly told hereâ??will inspire, entertain and instruct us all.—John Alexander, executive coach and former President, Center for Creative Leadership

This book is full of powerful stories by leaders who teach leaders.—Norm Smallwood, coauthor, The Leadership Code and Leadership Brand

Some of our greatest contemporary leaders have shared their leadership wisdom and experience in this book. Read and reread each story and you will discover what it is to Learn Like a Leader!—Frances Hesselbein, President and CEO, Leader to Leader Institute and former CEO, Girl Scouts of the USA

A must-read for anyone interested in leadership, management, organizational design or personal development, this inspiring collection of stories will enable individuals and groups to find deeper meaning in the work they do.—Publishers Weekly

A remarkable collection of inspiration, wisdom, and insight from the true luminaries in our field. The lessons shared in this book are not to be missed!—Marc Effron, president, The Talent Strategy Group