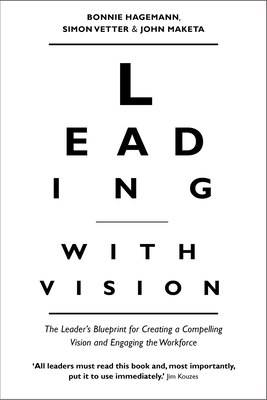 Leading with Vision
The Leader's Blueprint for Creating a Compelling Vision and Engaging the Workforce
Hardcover

* Individual store prices may vary.
Other Editions of This Title:
Digital Audiobook (7/31/2017)
MP3 CD (8/1/2017)
Compact Disc (8/1/2017)
Paperback (1/14/2020)
Description
What does it mean to lead with vision?From LinkedIn Learning Expert, Bonnie Hagemann comes the first book devoted entirely to vision as a key leadership principle.

Hagemann and her co-authors delve deeply into the notion that a compelling vision that motivates and inspires is a differentiator for organizations that want to hire and retain talent, be more competitive, and thrive in uncertain times. But a compelling vision on its own is not enough, which is why the authors, sought-after leadership development experts globally, provide readers with detailed analysis of the essential things leaders must do to effectively engage the workforce around that vision: embody courage, forge clarity, build connectedness, and shape culture.

Leading with Vision draws on quantitative data from the authors' research of over 400 companies supplemented with real-world examples from thoughtful leaders who exemplify the core principles of leading with vision in established companies, including: Olukai, Bumble Bee, Coresystems, Jimbo's, Bunge, and more. The book also includes an actionable blueprint developed by the authors that leaders and their organizations can implement on day one of their journey.

Praise For Leading with Vision: The Leader's Blueprint for Creating a Compelling Vision and Engaging the Workforce…
The authors make their point with the help of copious examples, plenty of citing of research and a fair amount of passion - as one might expect. But, above all, they offer practical guidance on how leaders might move from the traditional way of doing things to become more visionary—Forbes

Leading with Vision is timely and essential reading. It will enable you to make the emotional connection that is absolutely necessary in engaging today's workforce.—Jim Kouzes, coauthor, The Leadership Challenge and

Leading with Vision examines the challenges leaders face in engaging Millennials. The book highlights and discusses the importance of creating an emotional connection with this new workforce to get their full commitment, passion, and performance.—Khaled El-Maleh, Ph.D., Senior Director of Technology, Qualcomm

Leading with Vision shows leaders how to attain full engagement from the next generation of workers who are seeking an emotional connection to the work they do. And it tells the stories of many leaders who have successfully done so.—Maureen McDonald, Former Vice President

An essential guide for leaders who are committed to empowering their people and driving positive impact.—Randy Holloway, Director Cloud + Enterprise Solutions, Microsoft

Research and theory are matched with compelling business examples and actionable processes that will allow leaders to focus on creating the connectedness that today and the future's workforce so crave. The business applications are real and the reading a joy.—Julie Laulis, CEO, Cable One, Inc.

This is what we need to keep bright young women from leaving corporate jobs in droves, especially in STEM areas. Timely and indispensable.—Saniye Gülser Corat, Director, Division for Gender

Highly recommended as a guide for leaders seeking to inspire their organisations with a genuine, authentic vision.—David B. Peterson, Ph.D., Director of Executive Coaching &

Leading is not easy in the best of times-and especially not in our current business environment, rife as it is with uncertainty, volatility and complexity. Leading with Vision is a lighthouse in that storm, filled with wise counsel for leaders who seek to engage and inspire their people.—Marshall Goldsmith, executive coach and New

Creating a compelling vision that inspires people is not a simple task yet it is a powerful tool that impacts long term company performance. Leading with Vision provides a blueprint to help leaders create, articulate and deliver a compelling vision that will endure.—Frances Hesselbein, CEO of The Frances Hesselbein Leadership

A refreshing, evidence-based exploration into the power of a compelling vision-an often overlooked, but critical component of leading any organization!—Michael Traub, CEO Serta Simmons Bedding

This book is a comprehensive guide for all leaders who want to improve their leadership capabilities towards becoming visionary leaders. It's essential for being and staying successful in an ever changing business world.—Martin Knobloch, CEO Northern Europe BSH Home Appliances

There is a weight of evidence and clarity of vision here that elevates it well above most rivals.—People Management

There is an underlying wholesomeness about the authors' message—E&T Magazine
Nicholas Brealey, 9781857886818, 240pp.
Publication Date: May 16, 2017
About the Author
Bonnie Hagemann is the CEO of Executive Development Associates, a boutique consulting firm specializing in top-of-the-range executive development. She is called on as a subject-matter expert for the media, including: Forbes, Fast Company, the Wall Street Journal and CNN. Simon Vetter is the CEO of Stand Out International. Originally from Switzerland, he is a behavioral change expert, working with senior executives and leaders to create lasting transformation and has over 20 years of experience in leadership development, executive coaching and management training. John Maketa is a nationally respected thought leader and pioneer in innovative leadership. He is the Vice President of Corporate Development for Performance Assessment Network (PAN) where he leads initiatives designed to develop skills for next generation leaders.
or
Not Currently Available for Direct Purchase