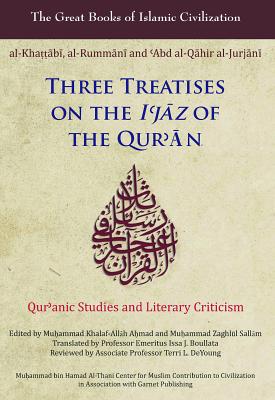 Three Treatises on the I'jaz of the Qur'an (Great Books of Islamic Civilization) (Paperback)
Garnet Publishing, 9781859643891, 174pp.
Publication Date: September 1, 2015
Other Editions of This Title:
Hardcover (8/18/2014)
* Individual store prices may vary.
Description
Now available in paperback, this book contains three important Arabic treatises from the 4th and 5th centuries of Islamic history, published here in English translation. These treatises deal with the Islamic concept of i'jaz, that is, the inimitability of the Qur'an because of its sublime style and divine content. While analyzing i'jaz, the treatises also partake in the development of the science of rhetoric in Arabic and the evolution Arabic literary criticism. The inimitability of the Qur'an is considered a miracle authenticating the holy scripture of Islam and proving the veracity of Muhammad's prophethood. Yet, despite its importance in Islamic thought and Qur'anic studies, few of the Arabic works on i'jaz have been translated into Western languages. The three Arabic treatises in the book are relatively short ones: they afford different points of view and offer a variety of literary and theological approaches that give the reader a virtually comprehensive understanding of i'jaz and the issues related to it, meanwhile contributing to the knowledge of Arabic rhetoric and literary criticism.
About the Author
Professor Emeritus Issa J. Boullata is a literary critic and scholar, who also writes fiction. Formerly Professor of Arabic Literature at McGill University, Montreal, Canada, he has published several books, including Trends and Issues in Contemporary Arab Thought (1990) and a novel in Arabic, Homecoming to Jerusalem (1998), in addition to numerous studies of Arabic literature, book reviews, short stories in English, and translations of Arabic poetry and of works by Ahmad Amin, Jabra Ibrahim Jabra, Mohamed Berrada, Ghada Samman, Emily Nasrallah, Hisham Sharabi, and others. Among his latest books are: as editor, Literary Structures of Religious Meaning in the Qur'An (2000); as author, in Arabic, A Window on Modernism: Studies in the Works of Jabra Ibrahim Jabra (2002); and as translator, Ibn DAbd Rabbih's The Unique Necklace (3 vols. 2006 - 2011). He was editor of the following journals: Al-DArabiyya (1977 - 82) and The Muslim World with W. Bijlefeld (1970 - 80), and guest editor of Oral Tradition (1989) on Arabic oral traditions and of Mundus Arabicus (1992) on the Arabic novel since 1950.
or
Not Currently Available for Direct Purchase