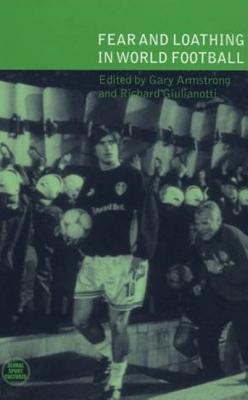 Fear and Loathing in World Football (Global Sport Cultures)
Paperback

* Individual store prices may vary.
Other Editions of This Title:
Hardcover (6/1/2001)
Description
The quickest entry-point into most local cultures anywhere on earth is to be found in talking football. Historically, football is one of the great cultural institutions, and, like education and the mass media, has played a key role in shaping and cementing senses of national identity throughout the world. However, the nature of intra-nation hostility, which may be based in football or which may use the game as an arena for antagonisms, has yet to be analyzed. Football today is more global than ever before. Teams, clubs and regions increasingly establish cultural identities through rivalries and opposition. Such rivalries invariably have deep historical antecedents enforced by prejudice, myth or religious conflicts, economic inequalities, or, perhaps most profound, class and ethnic divisions.
Issues of disorder and violence are routine by-products of the game the world over, and aggression, or the threat of it, characterizes many matches both minor and major. In short, football at all levels can become a site for symbolizing and expressing a variety of tensions. This timely volume fills a gap in the current literature on sport as the most extensive and incisive collection yet published on issues relating to football around the world. It uncovers and investigates the conflicts apparent in football rivalry by gathering together a series of in-depth case studies that span the football world.
Praise For Fear and Loathing in World Football (Global Sport Cultures)…
"Football academics and students of sociology are this book's obvious market. But it would be a shame if it was lost to the general reading public." --The Independent

"[This book's] appearance is yet more evidence of the growing respectability of fo otball as an area for academic study ... Packed with information and insights into some of the major conflicts and rivalries of domestic support around the world.' --When Saturday Comes

"Armstrong and Giulianotti have delivered a fi nely crafted anthology that does contribute to the literature on football and reminds that, at its heart, football is about deeply felt and symbolically charged antagonisms." --Soccar and Society
Continnuum-3PL, 9781859734636, 318pp.
Publication Date: June 1, 2001
About the Author
Gary Armstrong Lecturer, Department of Sport Science, Brunel University Richard Giulianotti University of Aberdee