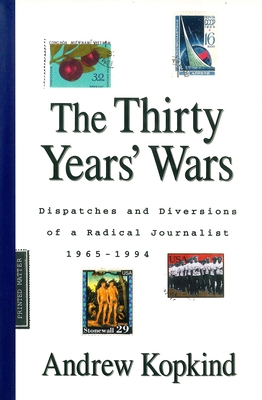 The Thirty Years' Wars
Dispatches and Diversions of a Radical Journalist, 1965-1994
Paperback

* Individual store prices may vary.
Description
This volume represents the 30 years' aftershocks of the cataclysmic battles of the 1960s, as recorded by one of the major journalists of that generation. A chronicle of political and cultural life from 1965 until Andrew Kopkind's death in October of 1994, it tracks the black civil rights movement, the New Left, Prague in the wake of Soviet invasion and Moscow during the Soviet collapse, Woodstock, drug wars, blue-collar attitudes, Christian soldiers and gay soldiers. As a gay man, Kopkind understood that there is no pure realm of the personal, and his writing captures history as it happened.
Praise For The Thirty Years' Wars: Dispatches and Diversions of a Radical Journalist, 1965-1994…
"The Thirty Years' Wars reveals its author to be not just a great radical journalist but a major repository of that enduring American ideal Walt Whitman called the 'Democratic Vista'— ... Shifting through the culture around him with infinite patience, Kopkind does precisely what a radical democrat in hard times should: He nudges us towards clarity."—Los Angeles Times

"Andrew Kopkind had a great talent for describing the political moods and emotions of the moment. Even now, his old dispatches crackle with the chaotic, breakneck energies of the late 1960s."—New York Times

"one of the clearest, most courageous voices in American radical journalism."—Guardian

"Politically engaged journalism at its best."—Out

"Probably no better record exists of these landmark events than the vivid reflections collected in The Thirty Years' Wars."—Washington Post

"Shelve this collection next to the best writings of l.F. Stone and H.L Mencken in that great library of books that torment the comfortable."—Kirkus Reviews
Verso, 9781859840962, 558pp.
Publication Date: November 17, 1996
or
Not Currently Available for Direct Purchase