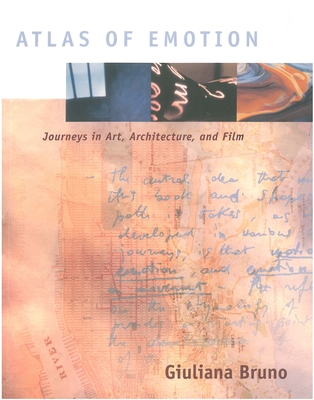 Atlas of Emotion (Paperback)
Journeys in Art, Architecture, and Film
Verso, 9781859841334, 496pp.
Publication Date: May 17, 2007
Other Editions of This Title:
Paperback (7/10/2018)
* Individual store prices may vary.
Description
Traversing a varied and enchanting landscape with forays into the fields of geography, art, architecture, design, cartography and film, Giuliana Bruno's Atlas of Emotion, winner of the 2004 Kraszna-Krausz award for "the world's best book on the moving image", is a highly original endeavor to map a cultural history of spatio-visual arts. In an evocative montage of words and pictures she emphasizes that "sight" and "site" but also "motion" and "emotion" are irrevocably connected. In so doing, she touches on the art of Gerhard Richter and Annette Messagem: the film-making of Peter Greenaway and Michaelangelo Antonioni; the origins of the movie palace and its precursors, and on her own journeys to her native Naples. Visually luscious and daring in conception, Bruno opens new vistas and understandings at every turn.
About the Author
Giuliana Bruno is Emmet Blakeney Gleason Professor of Visual and Environmental Studies at Harvard University. She is the author of Streetwalking on a Ruined Map, winner of the 1993 prize for outstanding book from the Society for Cinema and Media Studies, Public Intimacy (2007), and Surface (2014). Atlas of Emotion won the 2003 Kraszna-Krausz Book Award in Culture and History—a prize given to "the world's best book on the moving image.
Praise For Atlas of Emotion: Journeys in Art, Architecture, and Film…
"One of those critical works packed with learning and insights that at the same time takes you on an exhilarating ride through its author's imagination."
—Marina Warner, Guardian

"A hugely ambitious mapping of the complex intertwinings of film, architecture, and the body. This adventurous book will be of interest to anyone concerned with what we might call 'mobility studies': the attempt to understand cultural performances not as the manifestation of fixed structures but as the expression of restless energies."
—Stephen Greenblatt, Harvard University

"In this astonishingly provocative, captivating, tender, elegant, and passionate nonchronological, interdisciplinary book, Bruno connects splendidly a psychogeography of cultural life … She takes the readers through a poetico-scholarly and picturesque journey—a visual travelogue, based both on philosophical theories and erudite conjectures … Bruno writes like an expressionist painter, who deeply captures the invisible and the instantaneous."
—Choice

"In an exhilarating ride, the reader is transported across this vast hidden landscape to reach a whole new understanding of spatial experience."
—Mark Wigley, Professor of Architecture, Columbia University

"The richness of Bruno's take on the relation of motion and emotion … demonstrates its continuing relevance for current interdisciplinary visual cultural research."
—Leonardo
or
Not Currently Available for Direct Purchase