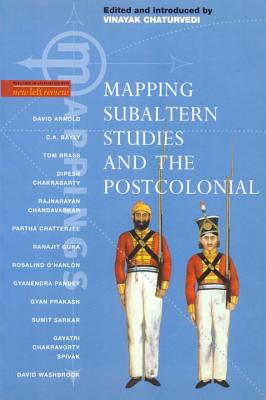 Subaltern Studies and the Postcolonial (Mapping) (Paperback)
Verso, 9781859842140, 364pp.
Publication Date: July 1, 2000
Other Editions of This Title:
Paperback (11/13/2012)
Hardcover (11/13/2012)
Hardcover (7/17/2000)
* Individual store prices may vary.
Description
This volume in the Mapping series offers a balance-sheet of the Subaltern Studies Project, an intervention in South Asian history and politics, which has generated an impact in Latin American, Irish, and African Studies.
About the Author
Vinayak Chaturvedi is a Professor of History at the University of California in Irvine.

Gyan Prakash (Ph.D. University of Pennsylvania) is professor of modern Indian history at Princeton University and a member of the Subaltern Studies Editorial Collective. He is the author of "Bonded Histories: Genealogies of Labor Servitude in Colonial India" (1990), "Another Reason: Science and the Imagination of Modern India" (1999) and "Mumbai Fables" (2010). Professor Prakash edited "After Colonialism: Imperial Histories and Postcolonial Displacements" (1995) and "Noir Urbanisms" (2010), codited "The Space of the Modern City" (2008) and "Utopia/Dystopia" (2010), and has written a number of articles on colonialism and history writing. He is currently working on a history of the city of Bombay. With Robert Tignor, he introduced the modern world history course at Princeton University.