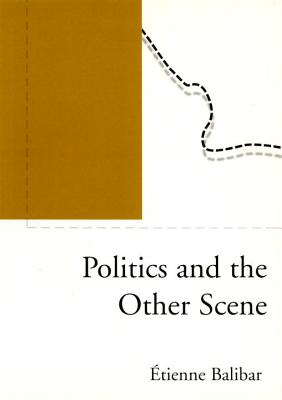 Politics and the Other Scene (Phronesis)
Paperback

* Individual store prices may vary.
Description
As one of Louis Althusser's most brilliant students in the 1960s, Etienne Balibar contributed to the theoretical collective masterpiece of "Reading Capital." Since then he has established himself among the most subtle philosophical and political thinkers in France.
In "Politics and the Other Scene "Balibar deepens and extends the work he first developed with Immanuel Wallerstein in "Race, Nation, Class." Exploring the theme of universalism and difference, he addresses such topical questions as European racism, the notion of the border, whether a European citizenship is possible or desirable, violence and politics, and identity and emancipation.
Praise For Politics and the Other Scene (Phronesis)…
"Etienne Balibar was one of the brilliant group of students around Althusser in the early 1960s. Since then he has established himself as one of France's foremost philosophers on the Left."—Radical Philosophy (in praise of Étienne Balibar)
Verso, 9781859842676, 196pp.
Publication Date: September 1, 2002
About the Author
Etienne Balibar is a French Marxist philosopher and the most celebrated student of Louis Althusser. He is also one of the leading exponents of French Marxist philosophy and the author of "Spinoza and Politics," "The Philosophy of Marx" and co-author of "Race, Nation and Class" and "Reading Capital."

Ernesto Laclau is Professor of Political Theory in the Department of Government, University of Essex, and Distinguished Professor for Humanities and Rhetorical Studies at Northwestern University. He is the author of, amongst other works, "Hegemony and Socialist Strategy" (with Chantal Mouffe), "New Reflections of the Revolution of Our Time," "The Populist Reason," "Contingency, Hegemony, Universality" (with Judith Butler and Slavoj Zizek), and "Emancipation(s)."

Chantal Mouffe is a Senior Research Fellow at the Centre for the Study of Democracy at the University of Westminster. Her books include "The Return of the Political"; "Hegemony and Socialist Strategy" (with Ernesto Laclau); "The Dimensions of Radical Democracy"; "Gramsci and Marxist Theory"; "Deconstruction and Pragmatism"; "The Democratic Paradox"; and "The Challenge of Carl Schmitt," all from Verso.