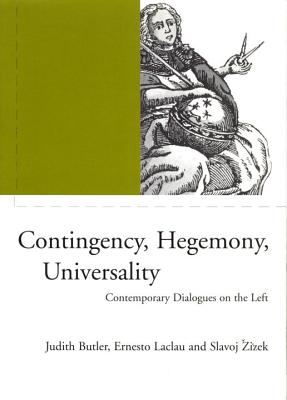 Contingency, Hegemony, Universality
Contemporary Dialogues on the Left
Paperback

* Individual store prices may vary.
Description
Their essays, organized as separate contributions that respond to one another, range over the Hegelian legacy in contemporary critical theory, the theoretical dilemmas of multiculturalism, the universalism-versus-particularism debate, the strategies of the Left in a globalized economy, and the relative merits of post-structuralism and Lacanian psychoanalysis for a critical social theory. While the rigor and intelligence with which these writers approach their work is formidable, Contingency, Hegemony, Universality benefits additionally from their clear sense of energy and enjoyment in a revealing and often unpredictable exchange.
Verso, 9781859842782, 329pp.
Publication Date: July 17, 2000
About the Author
Judith Butler is Maxine Elliot Professor in the Departments of Rhetoric and Comparative Literature at the University of California, Berkeley. She is the author of "Frames of War," "Precarious Life," "The Psychic Life of Power," "Excitable Speech," "Bodies that Matter," "Gender Trouble," and with Slavoj Žižek and Ernesto Laclau, "Contingency, Hegemony, Universality."

Ernesto Laclau is Professor of Political Theory in the Department of Government, University of Essex, and Distinguished Professor for Humanities and Rhetorical Studies at Northwestern University. He is the author of, amongst other works, "Hegemony and Socialist Strategy" (with Chantal Mouffe), "New Reflections of the Revolution of Our Time," "The Populist Reason," "Contingency, Hegemony, Universality" (with Judith Butler and Slavoj Zizek), and "Emancipation(s)."

Slavoj Žižek is a Slovenian philosopher and cultural critic. He is a professor at the European Graduate School, International Director of the Birkbeck Institute for the Humanities, Birkbeck College, University of London, and a senior researcher at the Institute of Sociology, University of Ljubljana, Slovenia. His books include "Living in the End Times," "First as Tragedy, Then as Farce," "In Defense of Lost Causes," four volumes of the Essential Žižek, and many more.

Chantal Mouffe is a Senior Research Fellow at the Centre for the Study of Democracy at the University of Westminster. Her books include "The Return of the Political"; "Hegemony and Socialist Strategy" (with Ernesto Laclau); "The Dimensions of Radical Democracy"; "Gramsci and Marxist Theory"; "Deconstruction and Pragmatism"; "The Democratic Paradox"; and "The Challenge of Carl Schmitt," all from Verso.