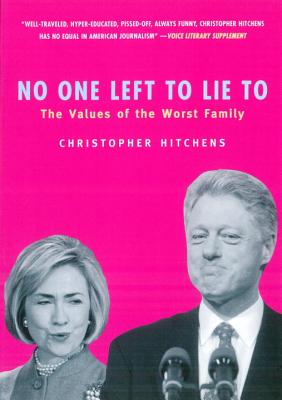 No One Left to Lie To (Paperback)
The Values of the Worst Family
Verso, 9781859842843, 150pp.
Publication Date: July 17, 2000
Other Editions of This Title:
Digital Audiobook (4/9/2012)
Paperback (4/10/2012)
CD-Audio (4/10/2012)
* Individual store prices may vary.
Description
'Clintonism' is not an idea, or a program; still less is it a principle. It represents what might be termed-were it not for its murk-the distilled essence of consensus politics. Unremarkable in its constituent elements, which are a mixture of opportunist statecraft, crony capitalism, 'divide and rule' identity politics, and populist manipulation, Clintonism has nonetheless raised these ordinary practices to the level of theory. It has succeeded, argues the author, because of a stealthy appeal to the waning and insecure forces of an American liberalism gone bad. Christopher Hitchens followed Governor Clinton through New Hampshire in 1992, and has remained an assiduous student of his methods ever since.

In No One Left to Lie To, he profiles the rise and decline of some prominent Clintonoids, from George Stephanopoulos to the First Lady. He scrutinizes the debased new language in which the discourse of Clintonism has been couched, and proposes that, if successful, the Clinton machine will become the model of pseudo-democracy for the coming century.
About the Author
Christopher Hitchens is a contributing editor to "Vanity Fair" and the author of the best-selling "God Is Not Great." His books published by Verso include "The Trial of Henry Kissinger," "No One Left to Lie To," "The Missionary Position," "Unacknowledged Legislation," "The Parthenon Marbles," "Hostage to History," and more.
Praise For No One Left to Lie To: The Values of the Worst Family…
"By far the best of all the books on the Clinton era."—Edward Said, Al-Ahram Weekly

"Christopher Hitchens is a remarkable commentator. He jousts with fraudulence of every stripe and always wins. I regret he has only one life, one mind and one reputation to put at the service of my country."—Joseph Heller

"If Christopher Hitchens is a Marxist, I want to be one, too."—Florence King, National Review

"The smartest guy I've seen on TV ... the Rosetta Stone of scepticism ... the Mark McGwire of sceptics ... he makes me look like a cheerleader."—Dennis Miller, Dennis Miller Live

"You don't buy Christopher Hitchens's new book because you want to find out whether Bill Clinton is really as terrible a liar as some people say he is. You buy it because you know he is a terrible liar, and the invitation to have a pungent fellow like Christopher Hitchens confirm every prejudice you ever had on the subject, plus a few you might not even have known you had, is an invitation you cannot resist."—Louis Menand, New York Times Magazine
or
Not Currently Available for Direct Purchase