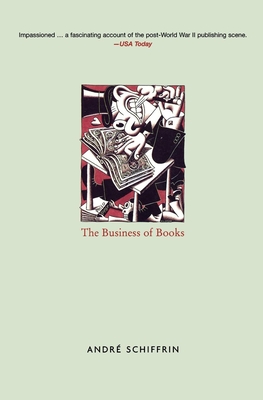 The Business of Books
How the International Conglomerates Took Over Publishing and Changed the Way We Read
Paperback

* Individual store prices may vary.
Description
Post-war American publishing has been ruthlessly transformed since André Schiffrin joined its ranks in 1956. Gone is a plethora of small but prestigious houses that often put ideas before profit in their publishing decisions, sometimes even deliberately. Now six behemoths share 80% of the market and profit margin is all.

André Schiffrin can write about these changes with authority because he witnessed them from inside a conglomerate, as head of Pantheon, co-founded by his father, bought (and sold) by Random House. And he can write about them with candor because he is no longer on the inside, having quit corporate publishing in disgust to set up a flourishing independent house, The New Press. Schiffrin's evident affection for his authors sparkles throughout a story woven around publishing the work of those such as Studs Terkel, Noam Chomsky, Gunnar Myrdal, George Kennan, Juliet Mitchell, R. D. Laing, Eric Hobsbawm and E.P.Thompson.

Part-memoir, part-history, here is an account of the collapsing standards of contemporary publishing that is irascible, acute and passionate. An engaging counterpoint to recent, celebratory memoirs of the industry written by those with more stock options and fewer scruples than Schiffrin, The Business of Books warns of the danger to adventurous, intelligent publishing in the bullring of today's marketplace.
Praise For The Business of Books: How the International Conglomerates Took Over Publishing and Changed the Way We Read…
"Andre Schiffrin is an old-fashioned New York publisher, the sort that loves and believes in books. Not just best-sellers, but little books with big ideas."—The Times [London]

"André Schiffrin presents a somber portrait of American publishing where the pursuit of profit has strangled all creativity."—Nouvel Observateur

"Newsworthy and important, eloquent, smart, thoughtful, and well-presented."—The Nation

"An absorbing account of the revolution in publishing during the last decade."—Financial Times

"Forceful evidence that corporate insistence on higher profits has been cultural and business folly."—Business Week
Verso, 9781859843628, 194pp.
Publication Date: November 17, 2001
About the Author
André Schiffrin was, for thirty years, the publisher of Pantheon Books. In 1990 Schiffrin left Pantheon to found The New Press. He is the author of The Business of Books, Words and Money, A Political Education, and Dr. Seuss & Co. Go to War: The World War II Editorial Cartoons of America's Leading Comic Artists. He divides his time between Paris and New York.
or
Not Currently Available for Direct Purchase