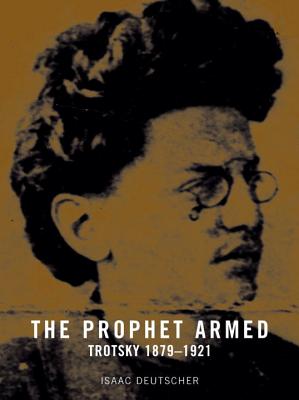 The Prophet Armed (Paperback)
Trotsky: 1879-1921
Verso, 9781859844410, 497pp.
Publication Date: January 17, 2004
Other Editions of This Title:
Hardcover (12/31/1954)
* Individual store prices may vary.
Description
Few political figures of the twentieth century have aroused as much controversy as the Russian revolutionary Leon Trotsky. Trotsky's extraordinary life and extensive writings have left an indelible mark on revolutionary conscience; and yet there was at one time a danger that his name would disappear altogether from history. Isaac Deutscher's magisterial three-volume biography was the first major publication to counter the powerful Stalinist propaganda machine, and in this definitive work Trotsky emerges in his real stature, as the most heroic, and ultimately tragic, character of the Russian revolution.
This first volume of the trilogy, originally published in 1954, traces Trotsky's political development: his early activities, the formation and crystallization of his distinctive and motivating idea the permanent revolution his long feud and final reconciliation with Lenin and Bolshevism, and his role in the October insurrection of 1917. The volume ends in the year 1921, when Trotsky, then at the climax of his power, unwittingly sowed the seeds of his own defeat.
About the Author
Isaac Deutscher was born in 1907 near Krakow and joined the Polish Communist Party, from which he was expelled in 1932. He then moved to London where he died in 1967. His other books include "Stalin" and "The Unfinished Revolution."
Praise For The Prophet Armed: Trotsky: 1879-1921…
"In the 1930s, Trotsky, with a handful of followers, attempted to block the path of Stalin's relentless hurricane of betrayal and murder. His epic defence of the soul of the Revolution against its bureaucratic executioners was a torchlight in the storm. In one of the very greatest modern biographies, Isaac Deutscher redeems the legacy of this astonishing revolutionary and humanist thinker."—Mike Davis

"The three volumes of Isaac Deutscher's life of Trotsky ... were for me the most exciting reading of the year. Surely this must be counted among the greatest biographies in the English language."—Graham Greene

"He has told the story more accurately and with fuller detail than ever before. His book is compulsory reading for anyone interested in the history of Soviet Russia and of international communism."—A. J. P. Taylor, New Statesman

"This is the critical voice the velvet revolution faded out. The republication of Deutscher's classic trilogy is good news for a new generation who want to know what went wrong with communist-style socialism."—Sheila Rowbotham

"Deutscher is an exceedingly vivid writer with a sense of style, and a warm and understanding sympathy for his hero: this makes him a first rate biographer."—Times Literary Supplement