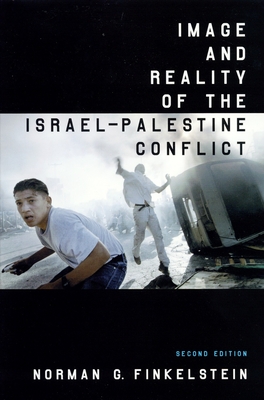 Image and Reality of the Israel-Palestine Conflict (Paperback)
Verso, 9781859844427, 288pp.
Publication Date: May 17, 2003
* Individual store prices may vary.
Description
This acclaimed study surveys the dominant popular and scholarly images of the Israel–Palestine conflict. Finkelstein opens with a theoretical discussion of Zionism, locating it as a romantic form of nationalism that assumed the bankruptcy of liberal democracy. He goes on to look at the demographic origins of the Palestinians, with particular reference to the work of Joan Peters, and develops critiques of the influential studies of both Benny Morris and Anita Shapira. Reviewing the diplomatic history with Aban Eban's oeuvre as his foil, Finkelstein closes by demonstrating that the casting of Israel as the innocent victim of Arab aggression in the June 1967 and October 1973 wars is not supported by the documentary record.

This new edition critically reexamines dominant popular and scholarly images in the light of the current failures of the peace process.
About the Author
Norman G. Finkelstein is the author of A Nation on Trial (with Ruth Bettina Birn), named a notable book for 1998 by the New York Times Book Review, and Image and Reality of the Israel-Palestine Conflict.
Praise For Image and Reality of the Israel-Palestine Conflict…
"... the most revealing study of the historical background of the conflict and the current peace agreement."—Noam Chomsky, Guardian

"Norman Finkelstein is one of the most radical and hard-hitting critics of the official Zionist version of the Arab-Israeli conflict and of the historians who support this version ... The book makes a major contribution to the study of the Arab-Israeli conflict which deserves to be widely read, especially in the United States."—Avi Shlaim

"Anyone interested in seeing justice brought to the Middle East must read this book."—Charles Glass

"... this thoroughly documented book is guaranteed to stimulate and provoke. It will be required reading in the continuing war of the historians."—William Quandt, Foreign Affairs

"... a thought-provoking work which calls into question many of the accepted 'truths' associated with the Israel-Palestine conflict."—Middle East Journal

"... both an impressive analysis of Zionist ideology and a searing but scholarly indictment of Israel's treatment of the Arabs since 1948."—London Review of Books