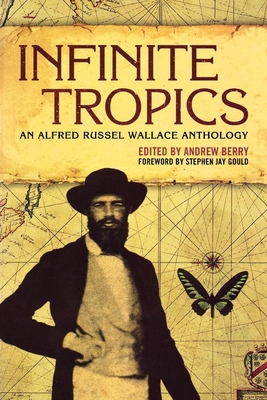 Infinite Tropics
An Alfred Russel Wallace Anthology
Paperback

* Individual store prices may vary.
Description
Alfred Russel Wallace's reputation has been based on the fact that, at age thirty-five and stricken with malaria in the Moluccan Islands, he stumbled independently upon on the theory of natural selection. Andrew Berry's anthology rescue's Wallace's legacy, showing Wallace to be far more than just the co-discoverer of natural selection. Wallace was a brilliant and wide-ranging scientist, a passionate social reformer and a gifted writer. The eloquence that has made his The Malay Archipelago a classic of travel writing is a prominent feature too of his extraordinarily forward-thinking writing on socialism, imperialism and pacifism. Wallace's opinions on women's suffrage, on land reform, on the roles of the church and aristocracy in a parliamentary democracy, on publicly funded education—to name a few of the issues he addressed—remain as fresh and as topical today as they were when they were written.
Praise For Infinite Tropics: An Alfred Russel Wallace Anthology…
"... this collection of [Wallace's] writing, each section introduced by relevant remarks on Wallace's thinking at the time, is enthralling."—New Scientist

"In Infinite Tropics, Andrew Berry does a wonderful job of excerpting Wallace's many writings ... Berry tells this story, 'one of the most celebrated in the history of science', beautifully."—Daily Telegraph

"Berry's anthology of the most important writings ... should be read to appreciate fully the sophistication of Wallace's biological thought."—Times Literary Supplement

"Berry's editorial commentary is succinct, accurate, and generally right to the point, and he has chosen his selections wisely, giving his readers a splendid, if somewhat teasing, glimpse of Wallace's genius."—Choice - A Choice Outstanding Academic Title of 2002
Verso, 9781859844786, 448pp.
Publication Date: December 17, 2003
About the Author
Alfred Russel Wallace (1823 – 1913) was a British naturalist, explorer, geographer, anthropologist and biologist. He is best known for independently proposing a theory of evolution due to natural selection that prompted Charles Darwin to publish his own theory.

Andrew Berry is a research associate at Harvard University's Museum of Comparative Zoology. He contributes to, among others, the London Review of Books, Nature, Slate and The New York Observer.

Stephen Jay Gould (1941–2002) was the Alexander Agassiz Professor of Zoology and Professor of Geology at Harvard University. He published over twenty books, received the National Book and National Book Critics Circle Awards, and a MacArthur Fellowship.