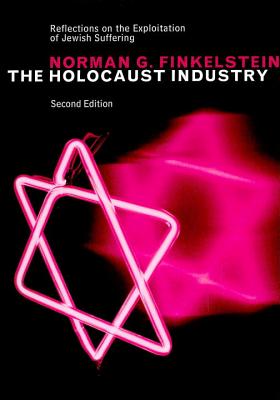 The Holocaust Industry (Paperback)
Reflections on the Exploitation of Jewish Suffering
Verso, 9781859844885, 288pp.
Publication Date: October 17, 2003
Other Editions of This Title:
Paperback (8/22/2016)
* Individual store prices may vary.
Description
In an iconoclastic and controversial study, Norman G. Finkelstein moves from an interrogation of the place the Holocaust has come to occupy in American culture to a disturbing examination of recent Holocaust compensation agreements. It was not until the Arab-Israeli War of 1967, when Israel's evident strength brought it into line with US foreign policy, that memory of the Holocaust began to acquire the exceptional prominence it enjoys today. Leaders of America's Jewish community were delighted that Israel was now deemed a major strategic asset and, Finkelstein contends, exploited the Holocaust to enhance this newfound status. Their subsequent interpretations of the tragedy are often at variance with actual historical events and are employed to deflect any criticism of Israel and its supporters. Recalling Holocaust fraudsters such as Jerzy Kosinski and Binjamin Wilkomirski, as well as the demagogic constructions of writers like Daniel Goldhagen, Finkelstein contends that the main danger posed to the memory of Nazism's victims comes not from the distortions of Holocaust deniers but from prominent, self-proclaimed guardians of Holocaust memory. Drawing on a wealth of untapped sources, he exposes the double shakedown of European countries as well as legitimate Jewish claimants, and concludes that the Holocaust industry has become an outright extortion racket. Thoroughly researched and closely argued, "The Holocaust Industry" is all the more disturbing and powerful because the issues it deals with are so rarely discussed.
In a devastating new postscript to this best-selling book, Norman G. Finkelstein documents the Holocaust industry's scandalous cover-up of the blackmail of Swiss banks, and in a new appendix demolishes an influential apologia for the Holocaust industry.
About the Author
Norman G. Finkelstein is the author of "A Nation on Trial" (with Ruth Bettina Birn), named a notable book for 1998 by the "New York Times Book Review," and "Image and Reality of the Israel-Palestine Conflict."
Praise For The Holocaust Industry: Reflections on the Exploitation of Jewish Suffering…
"[S]cathing in his denunciation of the institutions and individuals who have cropped up around the issue of reparations."—New York Press

"The most controversial book of the year."—The Guardian

"His basic argument that memories of the Holocaust are being debased is serious and should be given its due."—The Economist

"Finkelstein's downright pugilistic book delivers a wallop."—LA Weekly

"Breathtaking in [its] angry accuracy and irony."—The Jewish Quarterly

"A lucid, provocative and passionate book."—New Statesman
or
Not Currently Available for Direct Purchase