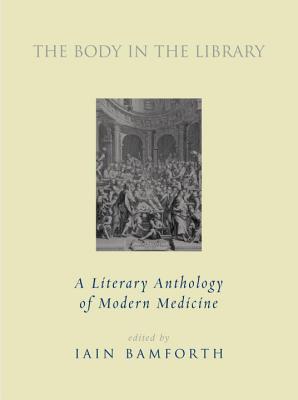 The Body in the Library (Hardcover)
A Literary Anthology of Modern Medicine
Verso, 9781859845349, 424pp.
Publication Date: December 17, 2003
* Individual store prices may vary.
Description
The Body in the Library provides a nuanced and realistic picture of how medicine and society have abetted and thwarted each other ever since the lawyers behind the French Revolution banished the clergy and replaced them with doctors, priests of the body. Ranging from Charles Dickens to Oliver Sacks, Anton Chekhov to Raymond Queneau, Fanny Burney to Virginia Woolf, Miguel Torga to Guido Ceronetti, The Body in the Library is an anthology of poems, stories, journal entries, Socratic dialogue, table-talk, clinical vignettes, aphorisms, and excerpts written by doctor-writers themselves.

Engaging and provocative, philosophical and instructive, intermittently funny and sometimes appalling, this anthology sets out to stimulate and entertain. With an acerbic introduction and witty contextual preface to each account, it will educate both patients and doctors curious to know more about the historical dimensions of medical practice. Armed with a first-hand experience of liberal medicine and knowledge of several languages, Iain Bamforth has scoured the literatures of Europe to provide a well-rounded and cross-cultural sense of what it means to be a doctor entering the twenty-first century.
About the Author
Iain Bamforth is a doctor who has worked across Europe and Australia. His essays and reviews have appeared in a variety of medical and literary publications including The Lancet, Times Literary Supplement, London Review of Books, and New York Times. He is the author of several books of poetry and has received a Scottish Arts Council Book Award and an Eric Gregory Award.

Samuel Beckett was born in Ireland in 1906. His plays Waiting for Godot and Endgame revolutionized modern theater, and his trilogy—Molloy, Mallone Dies, and The Unnamable—ranks among the major works of twentieth century fiction. He died in Paris in 1989.

Bertolt Brecht (1898–1956) was a German poet, playwright, and theater director. An influential theater practitioner of the 20th century, Brecht made equally significant contributions to dramaturgy and theatrical production, the latter particularly through the seismic impact of the tours undertaken by the Berliner Ensemble—the post-war theater company operated by Brecht and his wife and long-time collaborator, the actress Helene Weigel—with its internationally acclaimed productions.

Anton Chekhov was born on January 29, 1860 in Taganrog, Russia. He graduated from the University of Moscow in 1884. Chekhov died of tuberculosis in Germany on July 14, 1904, shortly after his marriage to actress Olga Knipper, and was buried in Moscow.

Louis-Ferdinand Céline (1894–1961) was a French writer and doctor whose novels are antiheroic visions of human suffering. Accused of collaboration with the Nazis, Céline fled France in 1944 first to Germany and then to Denmark. Condemned by default (1950) in France to one year of imprisonment and declared a national disgrace, Céline returned to France after his pardon in 1951, where he continued to write until his death. His classic books include Journey to the End of the Night, Death on the Installment Plan, London Bridge, North, Rigadoon, Conversations with Professor Y, Castle to Castle, and Normance.

Charles Dickens (1812–1870) is one of the most acclaimed and popular writers of all time. His many works include the classics The Old Curiosity Shop, Oliver Twist, Nicholas Nickleby, Barnaby Rudge, A Christmas Carol, A Tale of Two Cities, David Copperfield, Great Expectations, Bleak House, Hard Times, Our Mutual Friend, The Pickwick Papers and many more.

Sir Arthur Conan Doyle (1859–1930) is most noted for his Sherlock Holmes detective stories. He was a prolific writer whose other works include a wide range of science fiction stories, historical novels, romances, poetry, and nonfiction.

Gustave Flaubert (1821–80) is considered to be one of the most important French novelists of the nineteenth century. He's most well known for his novel Madame Bovary, and for his desire to write "a book about nothing," a novel in which all external elements, especially the presence of the author, have been eliminated, leaving nothing but style itself. Often considered a member of the naturalist school, Flaubert despised categorizations of this sort, and in novels like Bouvard and Pécuchet demonstrates the inaptness of this label. In addition to these two novels, he is also the author of A Sentimental Education, Salambo, Three Tales, and The Temptation of Saint Anthony.

Nikolai Gogol (1809–1852) was a novelist and political satirist. The author of Dead Souls and The Overcoat, he was one of Russia's greatest writers.

Franz Kafka (1883–1924) was born of Jewish parents in Prague. Several of his story collections were published in his lifetime and his novels, The Trial, The Castle, and Amerika, were published posthumously by his editor Max Brod.

Novelist, poet, and journalist, Deszö Kosztolányi (1885–1936) is widely regarded as one of the great Hungarian writers.

George Orwell (Eric Arthur Blair) (1903–1950) wrote fiction, journalism, criticism, and poetry. His nine books include the classics Animal Farm and 1984.

Raymond Queneau (1903–1976) is acknowledged as one of the most influential of modern French writers, having helped determine the shape of twentieth-century French literature, especially in his role with the Oulipo, a group of authors that includes Italo Calvino, Georges Perec, and Harry Mathews, among others.

William Carlos Williams (1883–1963) was born in Rutherford, New Jersey. He received his M.D. from the University of Pennsylvania, where he met and befriended Ezra Pound and H.D. (Hilda Doolittle). At the same time as maintaining a popular medical practice, he became a prolific poet, novelist, essayist, and playwright. Experimenting with new techniques of meter and lineation, Williams sought to invent an entirely fresh—and singularly American—poetics, whose subject matter was centered on the everyday circumstances of life and the lives of common people. He was inducted into the New Jersey Hall of Fame in 2009.
or
Not Currently Available for Direct Purchase