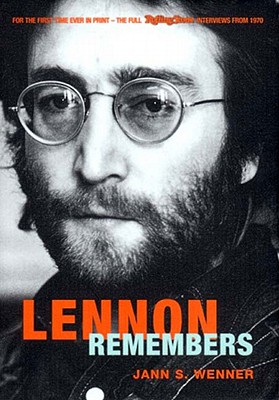 Lennon Remembers (Hardcover)
The Full Rolling Stone Interviews from 1970
Verso, 9781859846001, 160pp.
Publication Date: October 17, 2000
* Individual store prices may vary.
Description
Published on the twentieth anniversary of his death, this candid book reveals new information on the breakup of the Beatles, fellow musicians such as Bob Dylan and the Rolling Stones, Lennon's attitudes towards revolution and drugs, and his relationship with Yoko Ono. Featuring new introductions by Ono and Wenner, and containing substantial material never before seen in print, Lennon Remembers presents a compelling portrait of a complex musical genius at the height of his career. Sometimes anguished and angry, often tender and poignant, these interviews are indispensable to understanding who John Lennon was and why his legacy continues to resonate today.
Praise For Lennon Remembers: The Full Rolling Stone Interviews from 1970…
"Lennon Remembers is classic Lennon. It's not a sit-back-and-put- your-feet-up read ... it's like a jolt on your nerves like bad, bad espresso. People with weak stomachs should close the window before reading. You might just feel like jumping out."—Yoko Ono, from the Foreword.

"A must-have for anyone who loves and remembers Lennon."—San Antonio Exporess

"Arguably the most legendary interview ever conducted with a major celebrity."—Library Journal

"As riveting a document as it was three decades ago ... there is still nothing to rival this interview in the annals of rock journalism—it has lost none of its power to shock."—Anthony DeCurtis, Rolling Stone

"Finds Lennon in fine form, still bitter about the breakup of the Beatles, full of optimism about his future solo projects, opinionated, emotional and full of life. It captures his mercurial character more exactly than any other book on the Beatles I've read."—Independent on Sunday

"This is the only voice that will ever articulate what it was really, really like to be in the Beatles when it all went wrong—caught in a moment, rasping, raving, and flaming mad."—Uncut
or
Not Currently Available for Direct Purchase