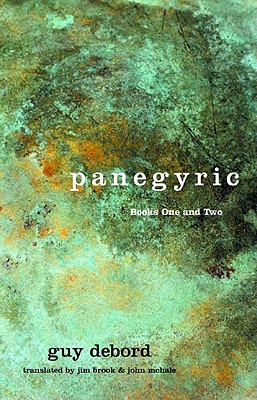 Panegyric (Hardcover)
Verso, 9781859846650, 181pp.
Publication Date: January 17, 2005
* Individual store prices may vary.
Description
"I have written less than most writers. But I have drunk far more than most drinkers. All my life I have seen only troubled times, extreme divisions in society, and immense destruction; I have joined in these troubles. My method will be very simple. I will tell of what I have loved; and, in this light, everything else will become evident... Over the years, more than half the people I knew well had sojourned one or several times in the prisons of various countries; many, no doubt, for political reasons, but all the same a greater number for common law offenses or crimes. So I met mainly rebels or the poor. Our only manifestations, which remained rather rare and bried in the first years, were meant to be completely unacceptable; at first, especially by their form and, later, as they acquired depth, especially by their content. They were not accepted." –Guy Debord

Guy Debord, as founding and pivotal figure of the Situationist International, pursued one of the twentieth century's most arch and exciting assaults on modern life. His 1967 Society of the Spectacle (followed, twenty years later, by Comments on the Society of the Spectacle) was a fierce critique of late-capitalist culture and became the signal text for those involved in the political events of May 1968 and beyond.

Panegyric is Debord's audacious autobiography, and here for the first time in English is the second, beautifully illustrated volume published together with the spare and classical text of the first. A rare combination of poetry and precision, it tells of something even rarer: a life that refused to adjust to the dominant malignancies of its time.
About the Author
Guy Debord was born in Paris in 1931 and committed suicide in 1994. A Marxist theorist, French writer, poet, filmmaker, hypergraphist and founding member of the groups Letterist International and Situationist International, Debord is best known as the leading theoretician of the situationist movement. His works translated into English include "The Society of the Spectacle," "Comments on the Society of the Spectacle," and "Panegyric."
Praise For Panegyric…
"These concise but extremely rich and provocative memoirs are the product of ... a philosopher whose scathing pen has never been so sharp."—John Taylor, San Francisco Chronicle

"A brief and elegiac memoir of a life lived in its shadows and cracks."—Artforum

"As cryptic and self-effacing a self-portrait as can be found anywhere ... Panegyric is almost purely literary, in the sense that one need know or care nothing of the author to be captured by it: Debord is seeking to hijack his era into timelessness."—Greil Marcus, London Review of Books
or
Not Currently Available for Direct Purchase