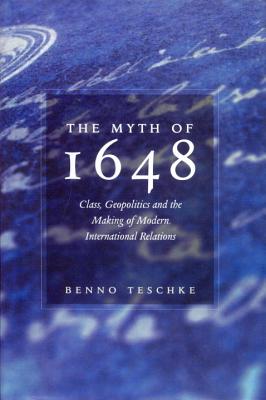 The Myth of 1648 (Hardcover)
Class, Geopolitics, and the Making of Modern International Relations
Verso, 9781859846933, 312pp.
Publication Date: August 17, 2003
* Individual store prices may vary.
Description
The Treaty of Westphalia in 1648 is widely interpreted as the foundation of modern international relations. Benno Teschke exposes this as a myth. In the process he provides a fresh re-interpretation of the making of modern international relations from the eighth to the eighteenth century.

Inspired by the groundbreaking historical work of Robert Brenner, Teschke argues that social property relations provide the key to unlocking the changing meaning of 'international' across the medieval, early modern, and modern periods. He traces how the long-term interaction of class conflict, economic development, and international rivalry effected the formation of the modern system of states. Yet instead of identifying a breakthrough to interstate modernity in the so-called 'long sixteenth century' or in the period of intensified geopolitical competition during the seventeenth century, Teschke shows that geopolitics remained governed by dynastic and absolutist political communities, rooted in feudal property regimes.

The Myth of 1648 argues that the onset of specifically modern international relations only began with the conjunction of the rise of capitalism and modern state-formation in England. Thereafter, the English model caused the restructuring of the old regimes of the Continent. This was a long-term process of socially uneven development, not completed until World War I.
About the Author
Benno Teschke is Senior Lecturer in the Department of International Relations at the University of Sussex. He was previously a Lecturer in the Department of International Relations & Politics at the University of Wales, Swansea, and Andrew Mellon Postdoctoral Fellow at the Center for Social Theory and Comparative History at UCLA. Benno received his PhD from the Department of International Relations, London School of Economics and Political Science.
Praise For The Myth of 1648: Class, Geopolitics, and the Making of Modern International Relations…
"A seminal book which sets out to revolutionise the way we think about international relations ... an extraordinarily ambitious project carried through brilliantly to a triumphant success ... The book is destined to produce a new research programme in international theory."—Peter Gowan

"A truly first-rate piece of work ... he completely demolishes a reigning consensus."—Robert Brenner
or
Not Currently Available for Direct Purchase